Corona Personal Injury Attorney
Personal injuries happen whenever one party causes physical harm and economic losses to another. Personal injuries happen every day throughout California for many reasons, from vehicle accidents to intentional acts of violence. If you are struggling with injuries suffered from another party's actions in Corona, CA, it is vital to know your rights and the most viable methods of securing compensation for your injuries.
Representing Personal Injury Claims in Corona, CA
A Corona personal injury lawyer with experience is an ideal asset in this situation. When you have reliable legal representation on your side, you are better prepared to face the challenges your case presents and maximize your final recovery. The team at Amendt Law excels at handling complex personal injury cases. Whether you are unsure who is at fault for your injuries or you do not know how to accurately calculate the extent of those damages, we can assist you with every aspect of your case.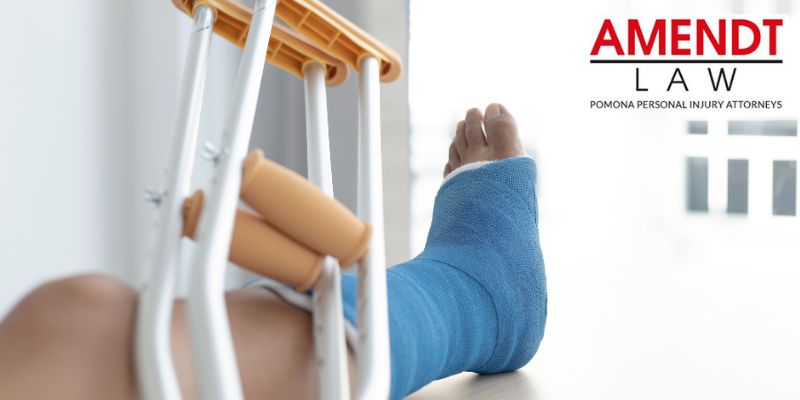 How to Build Your Personal Injury Claim in Corona
The objective of a personal injury claim is for the plaintiff to receive compensation for all damages they suffered from being as whole as possible again after a defendant has harmed them. California law is quite flexible when it comes to the compensation available to a personal injury plaintiff, but there are specific procedural rules the plaintiff must follow in order to secure the compensation they rightfully deserve.
First, the plaintiff needs to make sure they submit their personal injury complaint to the court within the statute of limitations. This is the time limit for filing the case, and the state enforces a two-year statute of limitations for personal injury claims. This might sound like more than enough time, but the reality is that the plaintiff will need to spend time gathering essential evidence and documentation to submit their claim correctly. It is ideal for them to start the process swiftly after their injury by connecting with a Corona personal injury attorney as soon as possible.
Succeeding in a personal injury claim will require a clear explanation of the damages the plaintiff suffered and proof that the defendant directly caused those damages. The plaintiff needs to show that the incident caused actual harm and provide evidence of the extent of the damages the defendant inflicted. A few of the most commonly filed kinds of personal injury claims in Corona include:
Vehicle accident claims. If you were injured in a vehicle accident caused by someone else, you could file a claim against their auto insurance for some initial compensation. However, if their insurance cannot fully compensate you for your injuries, you will need to file a personal injury claim against them to secure full repayment of your losses.
Premises liability claims. Property owners must address known safety hazards on their property, and failing to advise visitors could lead to liability issues for any slip and fall accidents or similar injuries there. If you believe you have grounds for a civil suit against a private property owner in Corona, you need to consult a personal injury attorney who can help you establish liability for your injuries.
Dog attacks. While most people only have positive experiences with dogs, it is important to understand that any dog can attack someone unexpectedly, potentially causing tremendous harm. The state enforces strict liability for dog owners whose pets injure others, so if you were hurt by someone else's dog, you could seek full accountability for the losses they inflicted.
Work-related injuries. If you or a family member suffered an injury at work, you likely have the ability to file a claim for workers' compensation. However, workers' compensation benefits may only cover a portion of your total damages, and you could have grounds for further legal recourse against any party directly responsible for your injury.
These are only a few examples of the kinds of personal injury claims that Amendt Law can handle. Once you have determined the cause of your personal injury and handled preliminary recovery efforts like insurance claims, you can proceed with claiming compensation from the defendant who injured you.
Claimable Damages in a Corona Personal Injury Case
You have the right to seek recompense for all of the economic damages the defendant inflicted with their negligence or misconduct. For most personal injury plaintiffs in Corona, these economic damages are likely to include medical expenses, property damage, and lost income. The defendant is fully liable for any financial losses you suffered because of their actions, and this includes future damages. For example, if you suffered a severe physical injury, you can not only seek accountability for immediate healthcare expenses but also the future medical costs you will need to reach maximum medical improvement.
If you cannot work due to your personal injury, the defendant who caused the injury faces responsibility for your lost income and your lost future earning ability. When a plaintiff can no longer work and earn income due to the severity of the injury, the party responsible for causing the injury must compensate the plaintiff for the future income they can no longer earn.
When it comes to pain and suffering, you have the right to seek as much as you believe to be fair to reflect the severity of your experience. Your Corona personal injury attorney can help prove the extent of the physical pain and psychological suffering you experienced due to the defendant's negligence or misconduct and assist you in securing as much compensation as possible. Ultimately, you are significantly more likely to win a personal injury suit with an attorney's help and could maximize your final case award. Amendt Law strives for maximum client recovery in every personal injury case we accept.
Corona Personal Injury Lawyer FAQs
Q: How Long Does It Take to Settle a Personal Injury Case?
A: If liability for your recent personal injury is clear and you have an experienced attorney representing your case, it may only take a few weeks to reach a settlement with the defendant. However, the settlement requires the defendant to accept liability for your injuries and agree to negotiate compensation. If a settlement is not possible, the case will need to be resolved in litigation, which takes much longer. Your Corona personal injury attorney can help you streamline your recovery.
Q: Does the State Have Any Laws That Limit Personal Injury Damages?
A: In most personal injury claims filed, the plaintiff has the right to seek repayment for all the losses they experienced because of a defendant. It is also possible for the plaintiff to claim pain and suffering compensation. State law does not limit this aspect of a personal injury case award with the single exception of medical malpractice cases. If your personal injury claim pertains to medical malpractice, state law limits how much compensation you can receive for pain and suffering.
Q: Can I Claim Compensation for My Damages if I'm Partly at Fault for Them?
A: The state enforces a pure comparative negligence law, so it is possible for a plaintiff to bear partial liability for a personal injury and still receive compensation. The plaintiff will have a fault percentage assigned to them by a judge, and this percentage is how much of their total case award they will lose to compensate for their shared liability. For example, 10% plaintiff fault would mean the plaintiff loses 10% of the total compensation recovered from the defendant. Your Corona personal injury attorney can help minimize the shared fault you absorb for your claimed damages.
Q: Will the Defendant Who Caused My Personal Injury Go to Prison?
A: Most of the personal injuries reported each year are the results of negligence, or failure to use reasonable care. Most defendants who cause personal injuries through negligence will not face criminal prosecution but will be liable for all damages they inflicted on others. However, if a defendant caused a personal injury through an illegal action, such as driving under the influence (DUI) or violent crime, they face liability for the victim's damages along with criminal prosecution.
Q: How Much Are Attorneys' Fees for a Corona Personal Injury Attorney?
A: It's understandable to be worried about the potential costs of any legal counsel when you are already struggling with expensive damages. However, most personal injury attorneys accept cases on a contingency fee basis. With a contingency fee arrangement, the client only pays legal fees if and when their attorney wins their case, and their fee is just a portion of the total amount recovered. The client keeps the remainder, and they are not required to pay anything if their attorney loses their case. If you need to hire a Corona personal injury attorney, make sure you fully understand their billing policy before you sign a contract with them.
The attorneys at Amendt Law have extensive experience helping clients in Corona and surrounding communities recover from all types of personal injuries. If any other party is responsible for harming you in any way, we can assist you in building a comprehensive civil suit against them, seeking maximum compensation for your injuries. If you are ready to learn what a trustworthy Corona personal injury attorney can do for you in your case, contact Amendt Law today and schedule your free consultation with our firm.