Diamond Bar Personal Injury Attorney
A personal injury occurs whenever the actions of one person or party harms another party. Most of the personal injury cases filed in Diamond Bar and throughout California each year are the result of negligence in a given situation. Personal injuries may also arise from intentional and illegal misconduct, complicating the victim's path to recovery. If you are struggling with a personal injury that another party caused, contact our firm. It is crucial to know what a Diamond Bar personal injury attorney can do to help you recover.
Reliable Personal Injury Counsel for Diamond Bar, CA, Clients
The team at Amendt Law routinely provides comprehensive legal counsel to victims of all types of personal injuries in the Diamond Bar area. We believe in individualized, client-focused legal representation, so our team will take time to get to know you and your situation to ensure we address your unique needs and concerns as your case unfolds. Our goal in every case we accept is to assist our clients in recovering the maximum amount of compensation for their damages in the most efficient manner possible. You have a limited time in which to start your claim, so it is crucial that you reach out to legal counsel you can trust as soon as possible to preserve your ability to recover.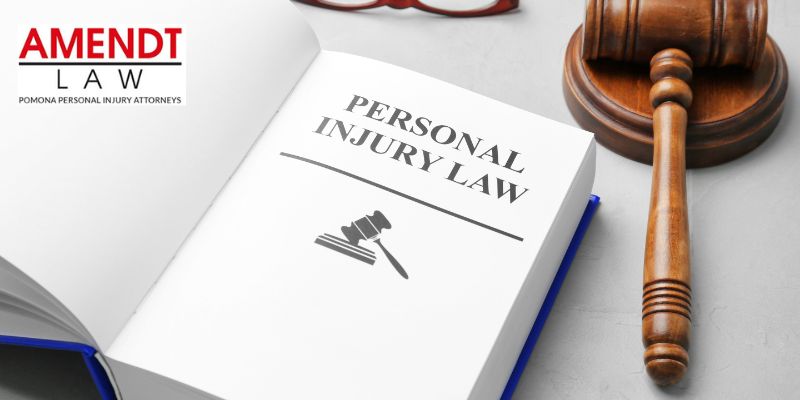 How to File a Personal Injury Claim in Diamond Bar
Many people suffer personal injuries without realizing their options for legal recourse. If another party has harmed you, you should consult an attorney you can trust as soon as possible. They can review the details of the incident and help determine your optimal path to recovery. The first step in any personal injury case is identifying the person or people you believe to be responsible for your damages. Next, you must gather evidence and witness testimony to prove that they directly caused your claimed damages, and you must show proof of the extent of those damages.
Success with your claim requires careful attention to detail and meeting various procedural requirements with the court. At Amendt Law, our team has experience managing all kinds of personal injury claims, including:
Car accident claims. Vehicle accidents are a leading cause of personal injuries in the Diamond Bar area. If another driver is responsible for hurting you, your recovery process will likely begin with a claim against their auto insurance policy, followed by a personal injury claim to secure compensation for damages their insurance can't cover.
Claims for dog bites. The state imposes strict liability for dog bites, so if you were hurt by someone's dog, the dog owner is fully responsible for your damages. You simply need to prove you were on the property legally and that you did not provoke the dog.
Claims regarding premises liability. Property owners must ensure their properties are free of foreseeable hazards that might harm lawful guests and visitors. If you slipped and fell or suffered a similar injury on someone's property, this could form grounds for a personal injury claim under the state's premises liability laws.
Catastrophic injury claims. Unfortunately, not all victims of personal injuries are able to fully recover from these experiences. A catastrophic injury is any injury causing permanent harm, such as a disability that prevents you from working and/or living independently in the future. Traumatic brain injuries and spinal cord injuries are common examples of catastrophic injuries that might occur in various ways throughout the state. This kind of civil suit requires the attention of an experienced Diamond Bar personal injury attorney if you want to maximize your case award.
Whatever type of personal injury you suffered, you will need an experienced attorney's help to gather the evidence necessary for proving liability. Once you firmly establish fault for your personal injury, your attorney can help you proceed with claiming compensation for your losses.
What Kind of Damages Can Be Claimed in a Diamond Bar Personal Injury Case?
The objective of your personal injury claim is to establish liability for your damages and hold the defendant accountable for their actions. California law allows the injured party in a personal injury case to seek repayment of all losses suffered because of the defendant's negligence or misconduct. Your successful personal injury claim in Diamond Bar may yield compensation for:
Medical expenses. The defendant who physically harmed you must pay for all the medical treatment you need to fully recover from the accident. This would include future rehabilitative care if they inflicted serious injuries that demand ongoing treatments.
Lost income. If you cannot work because of the defendant's actions, they are responsible for the money you are unable to earn. A good attorney can help you secure compensation for lost future earning potential as well, if the defendant's actions have permanently impaired your ability to earn money.
Property damage. When a defendant has damaged or destroyed your personal property, you have the right to seek compensation for all associated repair and replacement costs.
Pain and suffering. California law allows the injured party in a personal injury case to seek compensation for emotional distress, physical pain, and trauma suffered from a defendant's negligence or misconduct. There are no limits to how much the plaintiff may claim in most types of personal injury cases.
Ultimately, your case could yield much more compensation than you may have initially expected at the outset of your recovery. When you hire Amendt Law to represent you, we will carefully review the details of your personal injury and look for every available channel of compensation that can enhance your final case award.
Personal Injury Lawyer FAQs
Q: Is There Time for Me to File a Personal Injuries Case in Diamond Bar?
A: The statute of limitations in the state is two years for most personal injury cases. If you intend to pursue a personal injury action against any other party in Diamond Bar, it is essential to start your claim as soon as possible after the injury occurs to preserve your chance to recover. Failure to start your claim within the applicable statute of limitations could mean losing your ability to claim compensation from the defendant who caused your injury.
Q: How Much Is My Personal Injury Claim Worth in Diamond Bar?
A: It's natural to wonder how much compensation you could potentially secure from a successful personal injury suit in Diamond Bar. State law grants you the ability to seek full repayment of all economic damages you suffered, along with compensation for your pain and suffering. Many variables can influence the total value of your claim, and it is vital that you work with a seasoned Diamond Bar personal injury attorney if you want your final case award to be maximized.
Q: What Kind of Time Will It Take to Resolve a Personal Injury Claim?
A: Most of the personal injury cases filed each year do not go to trial and are instead resolved through private settlement negotiations. As long as the defendant accepts liability for their actions and agrees to negotiate, it is possible to resolve a personal injury claim in a matter of weeks. If you need to litigate your case, this will take much longer, and the final outcome rests in the hands of a judge.
Q: Will I Be Able to Claim Compensation if I'm Partially at Fault for My Personal Injury?
A: Yes, it is possible for a plaintiff in a personal injury case to bear partial liability for their damages and still receive compensation. The state upholds a pure comparative fault rule, so the plaintiff's portion of fault for the incident comes out of their final award. Therefore, 10% fault means losing 10% of your case award, 40% fault would mean losing 40%, and so on. No fault percentage bars plaintiff compensation under the pure comparative fault rule, so it is theoretically possible for a plaintiff to be found 99% at fault, and they could still recover 1% of the total damages claimed from the defendant.
Q: What Will It Cost to Hire a Diamond Bar Personal Injury Attorney?
A: It is understandable to be hesitant about hiring an attorney to help with your personal injury claim, especially when you are already struggling with the financial impact of your injury. Most personal injury attorneys accept cases on a contingency fee basis. With this billing arrangement, the client pays a percentage of their final case award as their attorney's fee in lieu of ongoing fees, and they only pay this fee if and when they win their case.
Skilled Diamond Bar Personal Injury Lawyers
The attorneys at Amendt Law strive to help every client we represent approach their case with confidence and peace of mind. When you choose our firm as your legal representative, we will immediately set to work gathering whatever evidence and testimony you will need to firmly prove liability for your damages and guide you through the process of obtaining the compensation you legally deserve. Contact Amendt Law today to set up your free consultation with a Diamond Bar personal injury attorney.