Personal Injury Attorney in Pomona, CA
A personal injury occurs whenever one party's actions cause harm to another party, typically in the form of physical injury and/or economic loss. For example, personal injuries can happen from negligence, a failure to act with reasonable care in a given situation, or intentional misconduct, such as breaking California law in any way resulting in harm to another person. If you or a loved one recently suffered injuries and economic losses due to the actions of another party, you likely have grounds to file a personal injury claim.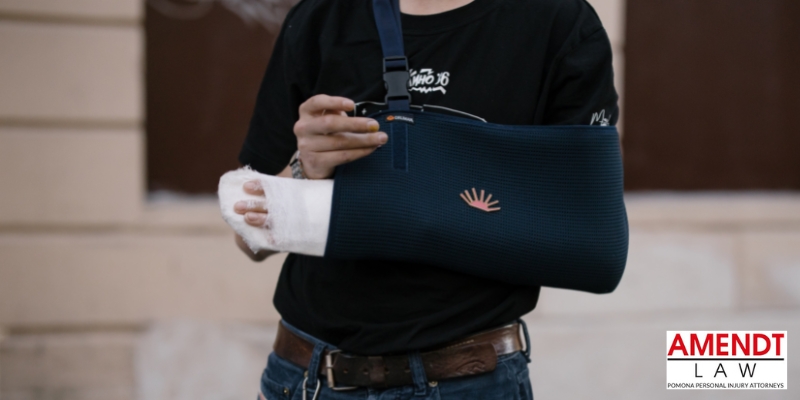 Representing Pomona, Personal Injury Cases
An experienced Pomona personal injury attorney is the ideal asset in this situation. While you can technically file a civil claim for personal injury without an attorney, and you may even succeed, navigating your case to a positive outcome and maximizing your final recovery would be much easier with the help of an experienced personal injury lawyer.
The Law Offices of Christian J. Amendt can offer the legal counsel you need for your personal injury claim. We understand the stress and uncertainty that any unexpected injury can cause to the victim and their family. Our firm has years of experience handling difficult personal injury cases for clients in Pomona, and surrounding communities. We can leverage this professional experience on your behalf and help you secure as much compensation for your losses as California state law permits.
Benefits of Legal Counsel for a California Personal Injury Case
The right attorney can tremendously impact the results of a personal injury claim. Regardless of how your injury happened and who is responsible for it, your attorney can provide a wide range of valuable legal services to help you recover. Instead of attempting to manage court filings and other procedural issues with your case while recovering from painful injuries, you can rest with peace of mind and recover with the reassurance of knowing your personal injury claim is in reliable hands.
The attorneys at the Law Offices of Christian J. Amendt have helped many Pomona clients recover substantial compensation for their personal injuries. Unfortunately, California state law allows the plaintiff in a personal injury case to seek a wide range of damages, and many clients are not fully aware of the true values of their cases until they secure legal counsel. Ultimately, hiring an experienced Pomona personal injury lawyer to represent your case dramatically increases your chances of winning, and the right attorney will help you maximize your final recovery as much as possible.
When you need a Pomona personal injury attorney, it's vital to find someone with experience handling cases like yours. At the Law Offices of Christian J. Amendt, our team can represent clients facing a wide range of personal injury claims, including:
Car accidents, which are a leading cause of accidental injuries and deaths throughout the United States each year. Auto insurance can provide some relief from accident damages, but a personal injury claim will be necessary if the at-fault driver does not have enough insurance coverage to fully compensate the plaintiff's damages.
Premises liability, such as slip and fall accidents that happen because of the negligence of property owners. If a property owner fails to fix a safety issue on their property and a lawful visitor sustains an injury because of it, the property owner is liable for the victim's damages.
Dog attacks. California enforces strict liability for dog owners whose pets harm others. As long as the attack is unprovoked and the victim is lawfully present at the location of the attack, the dog owner is liable for the victim's injuries and associated economic losses.
Catastrophic injury claims, which entail permanent disability and/or lifelong medical complications for the victim. Traumatic brain injuries, spinal cord injuries, and amputations are just a few examples of catastrophic injuries that can generate very complex and emotionally stressful personal injury suits. These cases typically involve substantial damages to reflect the victim's immediate and future losses.
Regardless of how your recent personal injury occurred or the extent of the damages you sustained, the Law Offices of Christian J. Amendt can provide the comprehensive legal counsel you need to approach your case with confidence.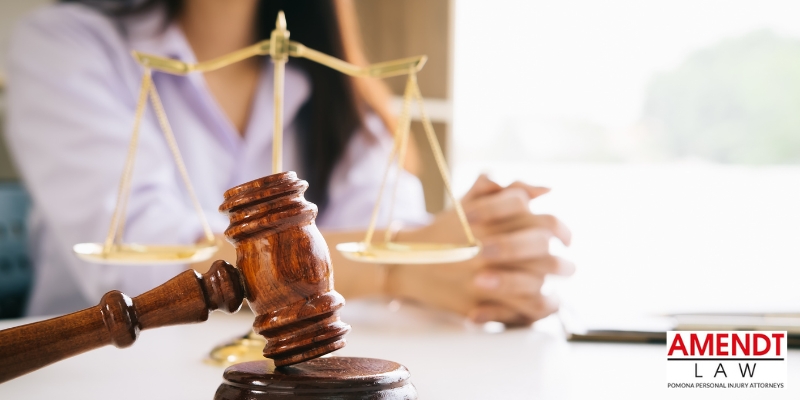 Recovering From Your Personal Injury in Pomona, CA
California's personal injury statutes uphold that the plaintiff in a personal injury case has the right to seek full repayment of all economic losses they suffered because of the defendant's negligence. They also have the right to seek compensation for non-economic damages such as their pain and suffering.
Any accident is likely to create a financial strain for the victim and their family when it comes to the economic impact of a personal injury. A severe injury may require expensive emergency care followed by ongoing treatment for the victim to fully recover. They could be unable to work for an extended time, or if they suffered any type of permanent harm, they might be unable to work in the future. The defendant's actions may have also resulted in property damage as well.
California law allows you to seek compensation for medical expenses, future medical treatment costs, lost income, lost future earning potential, and property damage as economic damages in your personal injury claim. State law also permits you to seek reasonable pain and suffering compensation that reflects the severity of your condition. In California, there are no limits for pain and suffering damages in personal injury cases, except for medical malpractice suits.
Contact Our Pomona, CA Personal Injury Lawyers Today
It can be difficult for the victim of a personal injury and their family to accurately calculate the total impact of their experience. Likewise, it is also very difficult to navigate the legal proceedings necessary to secure full compensation for their damages. Any personal injury in Pomona, has the potential to be a life-changing event. When you face complex legal proceedings following an injury, it's vital to have legal counsel you can trust to guide you through your case.
If you are ready to talk to a Pomona personal injury attorney about your case, contact the Law Offices of Christian J. Amendt today to schedule a free consultation with us and learn more about your legal options.