Azusa Personal Injury Attorney
The term "personal injury" can apply when one party causes harm to another. This could take the form of physical injuries and/or economic losses, and the injured party has the right to seek compensation for such losses. If you believe any other party is responsible for harming you or your loved one, an Azusa personal injury lawyer can help you hold them accountable for the damage they've done.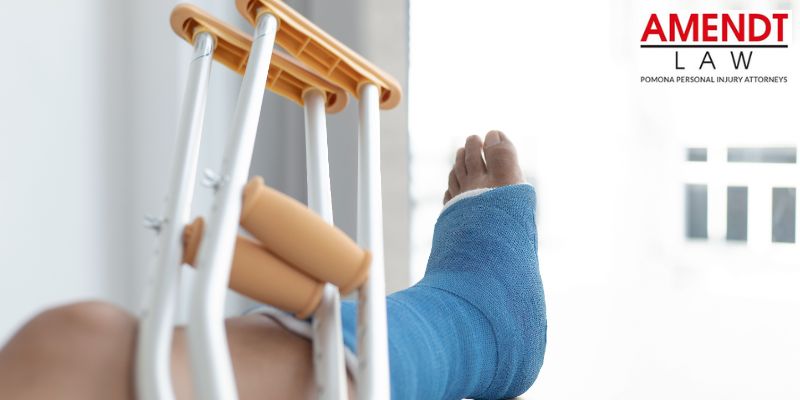 Representing Victims of Personal Injuries in Azusa, CA
The attorneys at Amendt Law have more than 24 years of professional experience in California personal injury law, and our team has successfully represented many past clients in a wide range of complex cases. Our firm takes time to develop individualized case strategies for each client we represent, assisting them in approaching their recovery efforts with confidence and peace of mind.
If you are struggling in the aftermath of another party's negligence or illegal misconduct, you have the right to seek accountability and compensation for the losses they caused. However, this process could be more challenging than you may initially expect, and you face many significant risks if you attempt to resolve your situation on your own. Hiring a personal injury attorney allows you to focus on your recovery, knowing your case is in capable hands.
You have a limited time in which to file a personal injury claim in California. The statute of limitations for most personal injury claims is two years, and this time limit starts on the date your injury occurred. If you don't file your claim within this time limit, you might lose your chance to recover damages.
Our firm is standing by to provide the guidance and support you need on your side as you navigate your personal injury case proceedings. We can help you gather the proof of fault you will need to hold the defendant accountable for their actions, and we can assist you in proving the full extent of the damages you can claim from the defendant. The sooner you reach out to our firm, the sooner we can start building your case.
Common Types of Personal Injuries in Azusa
It's possible for a personal injury to happen in many different ways. When you are searching for an Azusa personal injury attorney to represent you in your recovery efforts, it is crucial to find an attorney who has experience handling cases like yours. At Amendt Law, we have successfully represented many types of personal injury claims, including:
Vehicle accident cases. Motor vehicle accidents are one of the most prominent causes of personal injuries in California and across the United States. Your recovery from an accident will begin by proving fault and identifying the driver responsible for your damages. You can then file an auto insurance claim against the at-fault driver to recover your losses, but a personal injury suit will be necessary if they do not have enough coverage for all your damages.
Premises liability claims. Property owners throughout California are expected to maintain reasonably safe premises for lawful guests and visitors. If you were hurt on someone else's property, you have the right to file a personal injury claim against them to seek compensation for your damages.
Dog attack claims. The liability rule for dog bites and other pet-caused injuries is very strict in California. Under this rule, the pet owner is strictly liable for any and all damages their pet inflicted on the victim if the victim did not provoke the attack and they were lawfully present at the location where the attack occurred.
Catastrophic injury cases. A personal injury can qualify as "catastrophic" when it results in permanent harm to the victim. If your recent injury left you permanently disabled in any way, you are likely entitled to substantial compensation. Our firm can work carefully to discern every avenue of recovery available to you and assist you in maximizing your total compensation.
Whatever type of personal injury you recently experienced, proving liability will be a crucial first step toward recovering your losses. You must identify the party or parties responsible for the accident in question and then prove the full extent of all resulting damages.
How to Prove Negligence in a Personal Injury Claim
Most of the personal injury cases filed in California each year are the results of acts of negligence, a legal term that defines any failure to act with reasonable care in a given situation. For example, every driver has a duty of care to pay attention to their surroundings and to obey posted traffic signs. Running a red light or performing a moving violation would be violations of this duty of care.
If your personal injury happened because of negligence, you must prove the defendant in question had a duty of care that they breached in some way. This could be through failure to act with reasonable care or performing a specific action that another reasonable person likely would not have performed. You must then prove that their breach of duty directly caused your claimed losses, and you must show the full extent of those losses.
Alternatively, it is possible for a personal injury to happen because of some type of illegal misconduct. One of the most common examples of this seen in California is driving under the influence (DUI) of alcohol or drugs. If the defendant in your case broke the law in causing your injury, they are likely to face criminal prosecution from the state along with their civil liability for your damages.
In some cases, it is possible for more than one party to bear fault for the resulting damages. In these situations, California's pure comparative fault rule will apply to the case, and each liable party will be assigned a fault percentage to reflect their level of liability for the damages in question. If there is any risk of this applying to your situation, your Azusa personal injury attorney can advise you as to what you can expect in terms of how it may impact your recovery.
Economic Damages in Your Azusa Personal Injury Case
The primary goal of any personal injury claim is for the plaintiff to recover compensation for the damages the defendant inflicted with their negligence or intentional misconduct. The most straightforward of these damages will be economic damages or the direct financial losses caused by the defendant's behavior. Under California law, claimable economic damages in your impending case are likely to include:
Property losses. If the defendant's actions damaged or destroyed any of your personal property, they are responsible for all associated repair and replacement costs. Some property losses could be recoverable through insurance, but any remainder must be claimed in your personal injury suit as economic damages.
Medical expenses. Many personal injury claims pertain to physical injuries. If the defendant physically harmed you, they are responsible for the cost of any and all medical care you will need to fully recover. This includes both immediate and future medical treatment costs if you will need ongoing care to fully rehabilitate. The defendant may face liability for in-home care costs and other long-term medical expenses.
Lost wages. If your accident resulted in injuries that will prevent you from working for any extended period of time, the defendant is liable for the income you are no longer able to earn. This applies to vacation time and paid time off that you were forced to use in the aftermath of the accident.
Lost earning power. Unfortunately, some personal injury victims are left permanently disabled by their accidents. If this applies to your situation and you will be unable to return to work in the future, the defendant who caused your injury is liable for the future income you are no longer able to earn. Your Azusa personal injury attorney can help you accurately calculate these projected future damages.
Once you have an experienced attorney handling your case and helping you calculate the full scope of immediate and future economic damages you can seek from the defendant, you may learn that you have the right to claim much more compensation than you initially anticipated. The average person can likely calculate immediately noticeable damages, but accurately discerning the full scope of future economic damages is difficult without an attorney's help.
Pain and Suffering Compensation for California Personal Injury Claims
Beyond your economic losses, you also have the right to seek compensation for noneconomic damages the defendant caused. Under California's personal injury laws, a plaintiff has the right to seek reasonable compensation for the physical pain and psychological distress they experienced from the defendant's actions. There is no limit to how much the plaintiff can claim, with the only exception being medical malpractice cases.
If your personal injury suit is not considered within the realm of medical malpractice, your attorney can help you seek as much as you believe to be reasonable to reflect the severity of your experience. It's possible for your attorney to calculate pain and suffering compensation based on the time it will take for you to fully recover and/or the overall severity of the injuries you suffered and the scope of long-term or permanent harm the defendant caused.
Plaintiffs who have suffered catastrophic injuries resulting in permanent damage typically recover more pain and suffering compensation than plaintiffs expected to make full recoveries. Depending on the severity of the harm you suffered, it is possible for your pain and suffering compensation to amount to several times the total of your claimed economic damages.
Filing Your Personal Injury Claim in Azusa
Once you have determined the party or parties responsible for causing your personal injury and discerned the full scope of damages you suffered from their actions, you are ready to submit your civil complaint to the local court. Once you submit this claim, the court will review it for clerical or procedural errors and then send the appropriate paperwork to the defendant or defendants listed in the complaint, giving them the opportunity to respond.
At this point, the case may either proceed to settlement if the defendant accepts liability, or the case will proceed to litigation if they deny liability. When a defendant is clearly to blame for the damages in question, they are likely to seek a swift settlement. They will need to pay for a defense attorney, and they will spend far more in legal fees if the case goes to litigation. However, if they are unwilling to settle the claim for any reason, the case must go to court.
If your personal injury case goes to trial, the judge overseeing the case will have the final word when it comes to liability for the damages in question and the compensation the defendant owes. The respective legal representatives of both parties will present evidence and testimony and make arguments for the judge to consider. While settlement may only take a few weeks to a few months to complete, litigation can sometimes take several months to more than a year.
What to Expect From Your Azusa Personal Injury Attorney
The right attorney on your side can not only improve your chances of winning a personal injury case but also maximize the total compensation you secure. When you choose Amendt Law to represent you, we can begin gathering the evidence you will need to firmly establish fault for your damages and to prove the full extent of those damages. Once you're ready to file your claim, we can make it as compelling as possible to encourage the defendant into a settlement.
During settlement negotiations, our firm can aim to maximize your case award in the most efficient manner possible. However, if settlement is not an option for resolving your case for any reason, you can count on our team to represent you in litigation. We'll prepare you for each new courtroom session and present detailed arguments on your behalf.
Ultimately, every personal injury case filed in Azusa is unique, and each plaintiff will have different needs and concerns when it comes to resolving their personal injuries. Your personal injury attorney will be an invaluable asset as you seek accountability and compensation for the losses you suffered, and the sooner you reach out to our firm, the sooner we can start constructing your personal injury claim.
Azusa Personal Injury FAQs
Q: How Do You Prove Fault for a Personal Injury in Azusa?
A: Success with any personal injury case filed in Azusa, California requires proof that the defendant caused the plaintiff's claimed damages through an act of negligence or intentional misconduct of some kind. Proving fault typically requires a combination of various forms of evidence, including physical evidence from the scene of the accident in question, digital records, witness testimony, and even input from expert witnesses.
Q: How Much Is a Personal Injury Settlement in California?
A: California's personal injury laws allow a plaintiff to claim full repayment of any and all financial losses they suffered from the incident in question, along with pain and suffering compensation that reflects the severity of their experience. Your Azusa personal injury attorney can help you calculate your total claimable damages and maximize your case award as much as California law allows.
Q: What Happens if I Share Fault for My Personal Injury in Azusa?
A: California is a pure comparative negligence state. This means that in any case in which multiple parties bear liability for the damages in question, each liable party will have a fault percentage assigned that reflects their level of liability for the accident. If a plaintiff is assigned a fault percentage, they will lose this percentage of their case award as a penalty and keep the remainder.
Q: How Long Will It Take to Complete a Personal Injury Claim in California?
A: The time your case could require to reach a conclusion largely depends on whether you are able to settle the case outside of court. Most personal injury claims filed in California end in private settlement negotiations, a process that allows both the plaintiff and defendant to resolve the case quickly and have more control over the outcome. If the defendant accepts fault and you have a good attorney on your side, it's possible to settle a claim within a few weeks to months.
Q: What Is the Price of Hiring an Azusa Personal Injury Attorney?
A: It is understandable to have concerns about the potential cost of legal representation when you must hire an Azusa personal injury attorney to represent your case. However, the team at Amendt Law can provide the legal representation you need without adding to your financial problems. We take personal injury cases on contingency. This means our client only pays a fee if and when we win their case, and their fee is a percentage of the total compensation we secure on their behalf.
Contact Amendt Law
The attorneys at Amendt Law understand that you have many pressing legal questions in the aftermath of your recent personal injury, and our goal is to help you recover your losses as fully as possible in the shortest timeframe possible. If you're ready to learn how our firm can assist with your recovery, contact us today to schedule a free consultation with an Azusa personal injury attorney you can trust with your case.