Ontario Personal Injury Attorney
A personal injury is any incident caused by one party that results in tangible harm to another party. Personal injuries happen in many ways throughout California every day, and victims are often left wondering how they can recover the losses sustained in these incidents. If you or a family member is reeling in the aftermath of any other party's negligence or misconduct, an Ontario personal injury attorney is the ideal resource to consult to determine your best available options for legal recourse.
Compassionate Personal Injury Representation in Ontario
State law dictates that the party responsible for causing a personal injury assumes liability for all resulting damages. This may sound straightforward enough, but the reality is that any personal injury case can entail a host of complex variables, both in terms of proving liability and establishing the full scope of the plaintiff's claimable damages.
When you choose Amendt Law for your personal injury claim in Ontario, CA, we will carefully listen to your story and help you identify the key areas of concern in your case. In addition, our firm will help you understand the process of holding the at-fault party accountable for their actions and help you identify each available channel of compensation open to you in your case.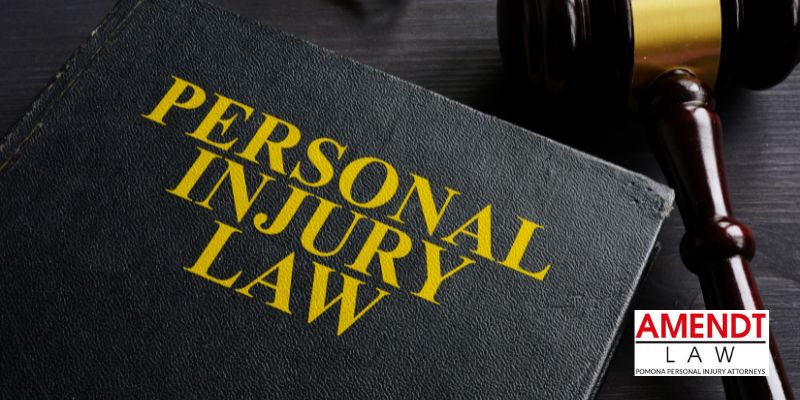 Proving Negligence in a Personal Injury Case
Most of the personal injury cases filed in Ontario pertain to acts of negligence, or failure to use reasonable care in specific situations. Many situations dictate duties of care for reasonable adults, such as the duty of care to maintain private property responsibly or the duty of care to refrain from drinking alcohol before driving.
If your recent personal injury resulted from another party's negligence, you must prove four elements of negligence to hold them appropriately accountable for your losses:
Duty of care. First, you must prove that the defendant who caused your injury held a duty of care in the situation. For example, a driver has a duty of care to refrain from distracting actions behind the wheel and to operate their vehicle attentively at all times.
Breach. Second, you must prove that the defendant who caused your personal injury breached the duty of care they owed you. Again, following the example of distracted driving, texting behind the wheel would be a clear example of distracted driving and the driver breaching their duty of care to operate their vehicle responsibly.
Damage. You may only sue another party if you can prove their actions caused tangible losses or actual harm. Your Ontario personal injury attorney will assist you in proving the full scope of economic losses you suffered due to the defendant's behavior as well as non-economic damages, such as your pain and suffering.
Causation. Finally, the plaintiff in a personal injury case must prove that the defendant directly caused their claimed damages and that they did not result from some other cause.
Once you have established these four elements of negligence, success with your personal injury claim is likely. However, if your personal injury resulted from any form of intentional misconduct, you are likely to face a more challenging series of legal proceedings, and the illegal nature of the defendant's behavior may influence your recovery efforts in various ways.
Driving under the influence (DUI), reckless driving, and intentional personal violence are just a few examples of illegal misconduct commonly cited as causes of personal injuries throughout the state. In the event the defendant who injured you broke state law in the course of causing your damages, the state is likely to file criminal charges against them. Their criminal court proceedings may unfold in tandem with your personal injury claim, and your Ontario personal injury attorney will advise you as to how the illegal nature of their actions may influence your recovery.
Damages and Compensation for a Personal Injury in Ontario
The goal of a personal injury suit is for the plaintiff to be made "whole" again by holding the defendant accountable for the losses they inflicted on the plaintiff. If someone else is responsible for harming you, state law dictates that you can seek compensation for the full scope of the financial losses they caused you to suffer:
A plaintiff can recover compensation for any and all medical treatment they require to achieve maximum medical improvement from their injuries. This includes all immediate health care expenses following the incident in question, as well as ongoing treatment costs if the plaintiff suffered a serious injury.
Plaintiffs who are left unable to work due to their injuries can seek accountability for the income they are unable to earn because of the negligence or misconduct of others. Your Ontario personal injury attorney can be invaluable for securing compensation for any lost wages incurred immediately following your injury, but if you are left unable to work in the future, you can also seek compensation for your lost future earning capacity.
Property damages are also recoverable through a personal injury case. For example, if you were injured in a car accident, an insurance claim against the at-fault driver might help you recover compensation for vehicle repair costs. However, if your personal injury case entails property losses not covered by the defendant's insurance, you can include these losses as economic damages in your civil claim.
California law also allows the victim of a personal injury to seek pain and suffering compensation in their civil suit against a defendant. It may seem difficult to assign a financial value to an intangible and subjective loss such as physical pain or emotional suffering, but your Ontario personal injury attorney can assist you in calculating an appropriate amount to include in your claim.
When a plaintiff has suffered extensive harm and faces long-term or lifelong complications because of a defendant's actions, their attorney is likely to seek a large lump sum of pain and suffering compensation. This is usually calculated by multiplying the plaintiff's claimed economic losses by a factor of one to five to reflect the scope and severity of the harm they suffered. Alternatively, when a plaintiff is expected to make a complete recovery in the near future, their attorney may seek a per diem pain and suffering settlement instead. This awards compensation for every day they spend in recovery from their injury.
Common Types of Personal Injury Cases Our Firm Handles
Amendt Law has extensive professional experience handling a wide range of personal injury cases on behalf of clients in Ontario and surrounding areas. When you need legal counsel you can trust for your personal injury claim, it's crucial to choose an attorney experienced in handling cases like yours. You can trust Amendt Law to provide comprehensive legal representation in personal injury claims such as:
Motor vehicle accident claims. We can assist our client in filing an insurance claim against the person at fault for the accident, and when this isn't enough to fully compensate for their losses, we can guide them through further legal recourse against the defendant.
Premises liability suits. If you suffered injuries while legally visiting someone else's private property because the owner failed to take care of a foreseeable safety issue, you could seek accountability with a personal injury claim under the state's premises liability laws.
Dog bite claims. The state follows a strict liability rule holding dog owners whose pets injure others accountable. As long as you did not intentionally provoke the attack and you were present legally at the site of the attack, you can seek full compensation for any damages another person's dog caused you.
Construction accidents. The construction industry is statistically the most dangerous industry in which one can work. If you suffered any type of injury while working, our firm could explain the workers' compensation claim process, and if a specific party is responsible for your injury, we can help hold them accountable with a personal injury suit.
We can also assist with many other types of personal injury claims in the Ontario area. So whatever your situation entails, if someone else harmed you through negligence or any form of intentional misconduct, we have the skills and resources necessary to help you ensure they are held responsible for the harm they've done.
FAQs About Ontario, CA Personal Injury Laws
How Much Are Legal Fees for Ontario Personal Injury Attorneys?
Most of the personal injury attorneys accepting clients in the Ontario area understand that the average person will not have the financial flexibility to handle expensive hourly legal fees on top of the economic strain caused by their injury. When you choose Amendt Law for your case, we take a contingency fee, meaning there are no legal expenses for you to worry about until we win your case. Your contingency fee is only paid once we win compensation for you, and you will only part with a percentage of the total case award as your fee.
Do I Really Need to Hire an Ontario Personal Injury Accident Lawyer?
Technically no, no law requires you to hire legal representation for a personal injury claim. However, hiring an attorney you can trust dramatically improves your chances of reaching the most successful results possible in your claim. Your attorney can handle all of your case proceedings for you, from preliminary court filings and meeting procedural requirements to navigating the settlement negotiation process with the defendant. As a result, you are not only more likely to reach a positive outcome for your case with an attorney's help but also more likely to secure the most compensation possible under state law.
How Long Will It Take to Resolve My Personal Injury Case?
When you are struggling with the damages inflicted by another party's negligence or misconduct, it is natural to wonder how long it might take you to recover your losses. When you have experienced legal representation, and the defendant is clearly liable for your damages, the settlement negotiation process may only require a handful of sessions over the course of a few weeks. However, if the defendant does not accept responsibility for their actions or disputes the range of damages sought in your complaint, your case may need to be resolved through litigation, and this will take much longer.
How Much Compensation Can I Claim for My Personal Injuries?
The total amount of compensation you can receive for your personal injury hinges on the scope of the damages you incurred from the defendant's behavior. State law permits you to claim the full amount of financial losses resulting from your injury as well as pain and suffering compensation. Remember that you can claim both immediate and future economic losses; you can also claim pain and suffering compensation with no upper limit for most personal injuries under California law. The best way to secure as much compensation as the law allows is to hire an experienced Ontario personal injury attorney to represent you.
What Happens When a Personal Injury Results in Death?
Unfortunately, not every victim of a personal injury will survive the incident. In the event your family has lost a beloved member due to the illegal misconduct or negligence of any other party in Ontario, you would likely be able to file a wrongful death claim. This civil claim replaces a personal injury claim that the victim could have filed if they survived their injury. However, personal injury claims try to get compensation for the victim, and wrongful death claims aim to make up for some of the family's losses.
Amendt Law has successfully represented many past clients in a wide array of personal injury claims in the Ontario area. We invest the time required to get to know each client, helping each one understand the legal mechanisms that are most likely to come into play in their case and helping them approach their legal proceedings with peace of mind. The reassurance of having reliable legal counsel on your side is invaluable for any personal injury case. Contact our firm today and set up a no-cost consultation with an Ontario personal injury attorney to learn more about the legal services we offer.