Rancho Cucamonga Personal Injury Attorney
Personal injuries happen when another person is careless and negligent or causes intentional harm to someone. This harm usually causes them physical injury or an economic loss. When you're the person dealing with the effects of an injury or financial loss, it can be upsetting and sometimes painful. If you file a personal injury claim, you can hold the person at fault responsible and gain compensation during your time of recovery.
Amendt Law for Personal Injury Cases in Rancho Cucamonga
Filing a claim when you're trying to recover can be stressful. When you work with a Rancho Cucamonga personal injury lawyer, the process will be explained to you and handled largely by our exceptional attorneys. Our injury law firm has worked in Southern California for over 24 years, and we want to help your claim succeed. We can help you navigate the claims process and use our resources to find the evidence useful in your claim. It's important to us that your rights are defended and that you earn the compensation you need to remain financially stable during this difficult time.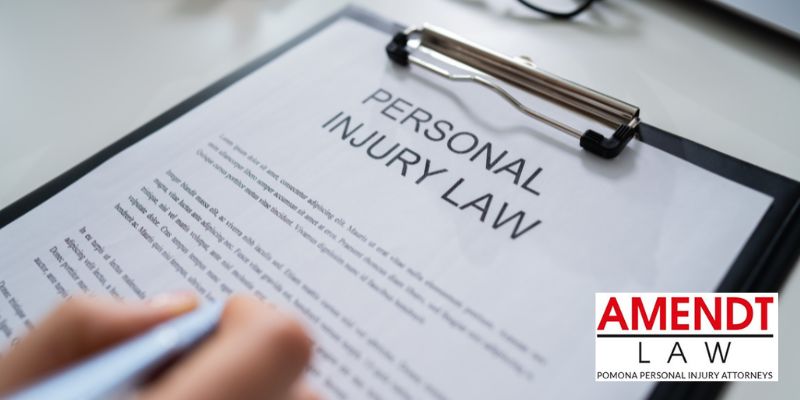 Understanding Personal Injury
Personal injury claims cover a wide range of harm and damages done in civil claims court. This may include medical malpractice, slip-and-fall accidents, dog attacks, or car accidents.
One essential aspect of any personal injury claim is proving that the other party owed you a duty of care and failed in that responsibility, which caused your injury. In California, if you are in part responsible for the injury, you may still be able to gain compensation. To know if you can earn damages for your personal injury situation, talk with a knowledgeable attorney in Rancho Cucamonga, CA.
Types of Personal Injury Cases We Handle
You need an attorney who understands the complexities of personal injury claims like yours. If your attorney doesn't have experience with your type of claim, it's unlikely that you will see maximized compensation. Amendt Law has experience in the following types of personal injury cases:
Car Accidents
Car crashes are a leading cause of personal injuries and can cause lifelong harm to those involved. When driving, you owe others on the road a duty of care. When a driver fails this duty of care and acts negligently, this can cause accidents. Examples of this failure include:
Distracted driving, such as eating, texting, or talking to others in the vehicle
Impaired driving, including being under the influence of drugs or alcohol
Illegal or reckless driving, including speeding or failure to adhere to road signs
In the event of an accident, you must file with the insurance provider of the at-fault driver. This is not always enough to cover your damages. Sometimes, the driver at fault does not have any or enough insurance. If this is the case, a personal injury claim may be the only way to recover damages done to you.
Bicycle Accidents
Accidents involving vehicles and bicycles are more often caused by drivers and are more likely to harm cyclists. A vehicle operator may drive in a bike lane, fail to yield to cyclists, or speed through areas with high bike traffic. This is a failure of reasonable care that may make them at fault for an accident.
Truck Accidents
Truck drivers have a higher level of training than others on the road and a greater duty of care due to the great potential harm their vehicles can do. Many commercial truck operators take this duty of care very seriously. Some fail their responsibility and cause severe injury or death in accidents they cause. An experienced attorney can help you gain the compensation you deserve from the truck company's insurance provider.
Pedestrian Accidents
Accidents that involve cars and pedestrians are likely to cause catastrophic injury or death to pedestrians. If you or a loved one was harmed because of a driver's negligence, you could hold them responsible with the help of a personal injury attorney.
Motorcycle Accidents
It's more likely that motorcyclists will file against a vehicle after an accident because the injuries sustained by motorcyclists are usually more severe. Drivers may:
Fail to check lanes for motorcyclists
Drive too close to motorcycles
Maneuver in unsafe ways around motorcycles
These are all forms of negligence that may lead to accidents. Motorcycles can also be held responsible for negligent actions that lead to crashes.
Premises Liability
Premises accidents result from the negligence of property owners. It is the duty of managers and owners of properties to keep their property safe and address damages in a reasonable amount of time. If lawful visitors suffer injuries, property owners are liable for that harm. Property liability injuries may be caused by:
Hard-to-see or slippery floors
Uneven ground
Badly-secured signs or decorations
Broken handrails on stairs and balconies
Badly-lit paths
Unsecured elevators
Failing to provide warning signs in dangerous areas of the premises
If these dangers were not addressed in a timely manner and caused you harm, you may want to discuss them with a personal injury lawyer.
Dog Bites
If a dog or animal attack is unprovoked against a person who is legally allowed to be on the premises where the attack occurred, the dog's owner can be held liable. Dog owners are responsible for the actions of their pets and for any injuries or financial losses caused by the attack.
Catastrophic Injuries
These claims include injuries where there is a permanent disability or lifelong health complications. This may include spinal cord injuries, amputations, and traumatic brain injuries. In these cases, you will require significant medical treatment and associated costs, likely for the rest of your life. This means that your compensation needs to be much higher to reflect that damage. Working with an attorney can ensure you receive the fair compensation you deserve.
Wrongful Death
A wrongful death claim is filed in place of a personal injury claim by the victim's loved ones. This claim can provide you with compensation that allows you time to grieve your loved one. You can cover lost income, medical bills from your loved one's injury, and funeral and burial expenses. If the carelessness of another party was the cause of your loved one's injury and death, you could file a wrongful death claim to hold them accountable.
If your personal injury claim falls into these categories, the professionals at Amendt Law can provide you with legal counsel and advocacy throughout your claims process.
Benefits of Working with a Personal Injury Attorney
When you file a personal injury claim, any mistakes made or lack of evidence could cost you the compensation you deserve. Though a lawyer isn't required to file a civil claim, a personal injury lawyer can make it much easier to file. You're likely stressed and in pain, and it won't help your recovery to argue with insurance companies. Attorneys understand the complex process of filing and know how to present information in the most favorable way. Attorneys may also be aware of other damages you qualify for, increasing your total compensation.
FAQs About Rancho Cucamonga, CA Personal Injury Laws
What Percentage Do Most Personal Injury Lawyers Take?
Some attorneys charge an hourly rate for personal injury claims, while others operate on a contingency fee. The average contingency fee percentage in California is 33%. If an attorney works on a contingency fee, it means they don't charge you out-of-pocket fees and only get paid if they win you compensation. Always talk with potential attorneys and ask them how they charge before you commit to their services. It's important that you are able to pay for their services throughout the entire claim process, even if it has to be litigated.
What if You Can't Afford a Lawyer for Your Personal Injury Case?
If you're unable to afford an attorney's hourly rate, you may want to find an attorney who works off a contingency fee basis. This means that instead of out-of-pocket fees, you pay a certain percentage of the settlement amount that you're awarded. This can range from 30 to 40%, depending on the time and effort needed for your case. For many people, working with an attorney increases the settlement amount they receive.
Do I Need to Hire a Personal Injury Lawyer?
Hiring an attorney is not required to file a personal injury claim. However, it will increase your chances of success and will likely maximize the compensation you receive. Hiring an attorney will also take the stress and workload off your shoulders as you focus on recovery. If your claim can't be negotiated and must go to court, it's useful to have an attorney who already knows the specifics of your claim.
What Does a Personal Injury Lawyer Do?
A personal injury attorney will gather evidence for your claim, help you file your claim, and negotiate on your behalf with insurance providers if necessary. Attorneys have the experience to handle your claim and know the ideal strategy for claims like yours. If negotiation fails to come to a fair outcome for you, your attorney can defend you in litigation.
Your Rancho Cucamonga Personal Injury Lawyer
If you or a loved one has been harmed because of another person's recklessness or intentional harm, you can hold them liable. It can be difficult to know what damages you should be awarded, as some personal injuries have long-term medical costs. Working with a personal injury attorney will allow you to approach your claim with confidence and know that you can rely on trusted counsel. Contact the team with Amendt Law today.