Auto Accident Attorney in Pomona, CA
Car accidents are a leading cause of accidental injuries and deaths in the United States annually. Unfortunately, California is notorious for heavy traffic, a high rate of aggressive drivers, and the largest percentage of underinsured and uninsured drivers of any US state. This means every driver in California faces significant risks whenever they experience an accident. Unfortunately, determining fault is not always straightforward, and a serious accident can have devastating consequences for those involved.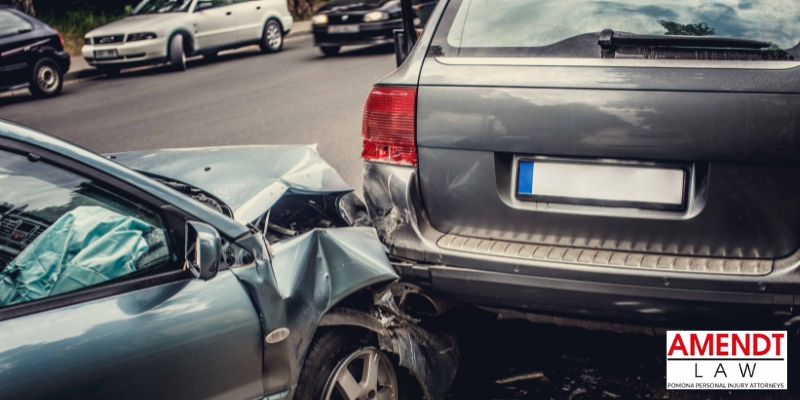 Legal Counsel for Pomona Car Accidents
Navigating the aftermath of a recent car accident in Pomona, will be much easier with an experienced attorney advising you as your case unfolds. While it's technically possible to handle an auto insurance claim on your own, having an attorney's assistance significantly improves the chances of securing a fair settlement as quickly as possible after an auto accident. If you must take further legal action with a personal injury claim, your lawyer will provide invaluable support and guidance as your case unfolds, helping you maximize the final recovery you receive.
The Law Offices of Christian J. Amendt can provide the client-focused and compassionate legal counsel you need after a serious accident in the Pomona, area. Our team has assisted many past clients with difficult car accident claims. We understand the uncertainty and distress that follow a car accident and the severe economic toll a negligent driver's actions can take on a victim and their family. When you choose our firm as your Pomona car accident attorneys, we will guide you through every phase of your case so you fully understand your legal proceedings and are prepared to face whatever legal challenges your case may present.
Common Causes of Car Accident Claims in Pomona, CA
A car accident can happen for several unpredictable reasons. California state law enforces a fault-based system for determining liability for vehicle accidents. This means when a car accident happens because a driver was negligent in handling their vehicle in any way, they are responsible for injuries and other damages other motorists sustain because of their actions. Some of the most commonly reported causes of auto accidents that generate personal injury suits in California are:
Distracted driving, the most commonly cited cause of vehicle accidents throughout the United States.
Driving under the influence (DUI) of drugs or alcohol, which will lead to criminal prosecution and liability for civil damages for the at-fault driver.
Speeding, which diminishes the time a driver has to react to sudden changes in traffic around them.
Moving violations, such as illegal turns and failure to yield the right of way, which can easily disrupt traffic and cause accidents.
Poor visibility, such as driving in fog, at night, or in areas with traffic congestion. Accidents may happen easily in poor driving conditions when drivers are not appropriately cautious.
If you believe another driver is directly responsible for the accident you or a loved one recently had, it's crucial to speak with an experienced attorney as soon as possible to discuss your legal options.
Recovering From Your Car Accident in California
A Pomona car accident attorney can provide clarity and guidance when you need it most after an accident. An insurance claim is typically the first step in recovering your losses from a car accident. California requires all drivers to carry auto insurance that meets strict minimum coverage requirements. So, if another driver is to blame for your recent accident, you can file a claim against their auto insurance policy.
An experienced Pomona auto accident lawyer can help ensure you receive appropriate compensation for your damages through your auto insurance claim. If any controversies arise throughout the insurance claim process, or if the insurance carrier unfairly denies your claim or offers a lowball settlement, your attorney can address these issues. In addition, if available insurance coverage cannot fully compensate your losses, or if the at-fault driver does not have auto insurance, your attorney can assist you in building a personal injury claim against the at-fault driver.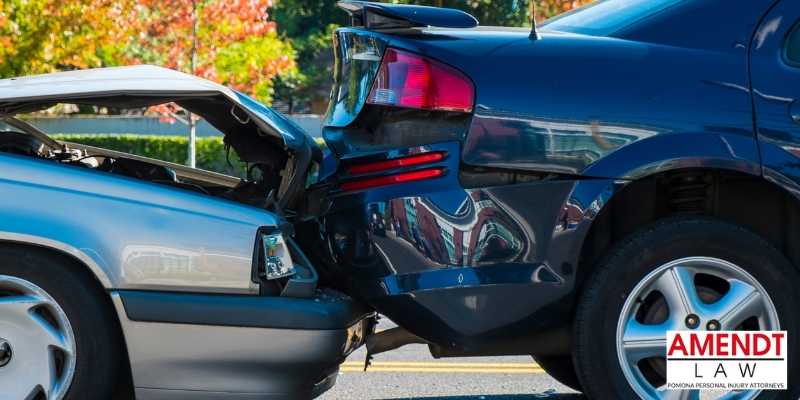 Personal Injury Damages and Compensation in Pomona
If you have grounds for a personal injury suit following a car accident in California, you can potentially secure compensation for damages that insurance can't or won't cover. The personal injury statutes of California enable a plaintiff to seek compensation for economic losses, including:
Medical treatment costs, both immediately following the accident in question and those incurred by the plaintiff in the future when they have sustained severe injuries. The defendant is liable for any expenses required to heal the victim's injuries and manage their symptoms in recovery.
Lost income. When a car accident leaves you unable to work, the defendant is responsible for income lost during your recovery. In addition, if a plaintiff suffered permanent injuries that prevented them from returning to work, the defendant faces liability for their lost future earning capacity.
Property damage. Insurance may cover some vehicle repair costs, but any outstanding property losses qualify as economic damages in a personal injury claim.
An experienced Pomona car accident lawyer can assist their client in recovering as much as possible through an insurance claim before compiling a personal injury suit against the at-fault driver. Insurance can only do so much to compensate a victim's losses after a serious accident, and a successful personal injury claim can yield more substantial economic damages for the plaintiff. Additionally, state law allows the victim of a personal injury to claim pain and suffering compensation in their civil suit. There is no limit to the amount a plaintiff may claim in pain and suffering damages for a car accident, and their Pomona car accident attorney can assist them in determining an amount that fairly reflects their condition.
Contact Our Pomona, CA Car Accident Attorneys Today
Ultimately, any car accident has the potential to generate very complex civil court proceedings, and navigating them without legal representation would be extremely difficult. Therefore, if you or a loved one is struggling in the aftermath of a car accident someone else caused, it's vital to consult a Pomona auto accident lawyer as soon as possible to determine your best options for legal recourse. Discuss your case with a Pomona car accident attorney you can trust; contact the Law Offices of Christian J. Amendt today and schedule your consultation with our team.