Wheelchair Injury Attorney in Pomona, CA
More and more places have become wheelchair-accessible in recent years, leading to greater freedom to wheelchair users. However, some of these accessibility features are poorly implemented, which can lead to unsafe situations. In some cases, wheelchair users can actually be injured due to these oversights. Our Pomona wheelchair accident attorneys at The Law Offices of Christian J. Amendt know the many challenges that people face when using a wheelchair. We have represented wheelchair users in Pomona and throughout California for more than two decades.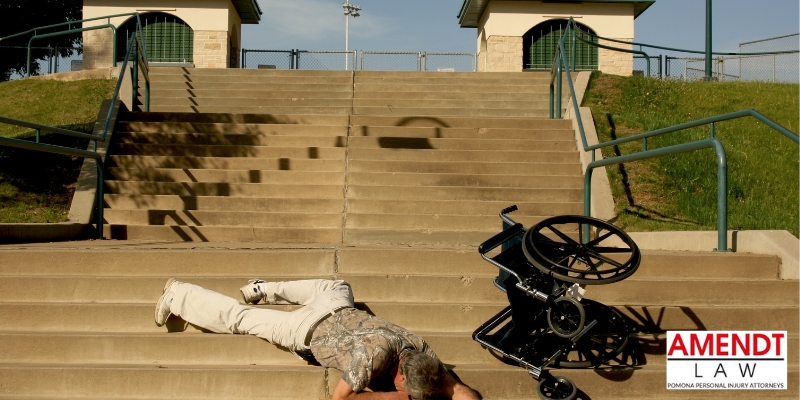 Anyone Can Use A Wheelchair
Some wheelchair users will always need them due to a permanent condition. However, other people only use wheelchairs temporarily after surgery or while recovering from something else. Temporary users are actually at greater risk, since they tend to be less experienced and can fall victim to the negligence of others more easily.
Almost Accessible, But Not Quite
Many property owners know that they need to have accessible facilities. Unfortunately, some of them do not want to spend the time or money to do it properly. Here are some common problems that our clients have encountered:
Inadequate ramps: Some ramps that are intended to be wheelchair-accessible do not comply with code requirements. They might be too narrow, too steep, or have inadequate drainage or lighting. This can lead to a braking failure or even a wheelchair accident.
Narrow doorways: Wheelchair users require doors that can accommodate their equipment; yet some businesses and public places do not have these.
Slippery riding surface: Sometimes the floor or ramp surface is too slick for wheelchairs to use. This can be exacerbated if the floors are cleaned with cleaning fluid during regular business hours, making an already slick surface even worse for traction.
Automatic door mechanism failure or absence: Exterior doors need to have an automatic opening mechanism so that wheelchair users can simply push a button. Too often these buttons do not function properly or are missing altogether, putting the wheelchair user in a situation in which they must unsafely open a door or else not be able to reach their destination.
Evaluating Safety After An Accident
If you have been involved in a wheelchair accident, our lawyers will methodically evaluate the safety of the situation. We explore a number of different questions:
Was the location unsafe?
Were the accessibility features installed by the proper professionals?
Were there extenuating circumstances that led to the accident?
Most of the time, the wheelchair user was paying attention to their surroundings and was victimized by the property owner's negligence.
Contact Our Experienced Pomona Wheelchair Accident Lawyers Today
If you have suffered an injury in your wheelchair, our Pomona wheelchair injury lawyers will work to recover the compensation you need to resume your life. Please contact us through our online form else call our offices: 909-766-1994. We have an exceptional case history of wins for our clients.
We serve Pomona and the surrounding areas in Southern California.
Se habla español.