Upland Personal Injury Attorney
Every day, thousands of personal injuries occur throughout California from all types of situations. Whenever one party harms another party through negligence or misconduct of any kind, they are responsible for paying for the damages the victim incurs from their actions. Every state enforces different personal injury statutes, and if you suffer any personal injury in the Upland area, it is crucial to know your rights in terms of recovering your losses and holding the at-fault party accountable.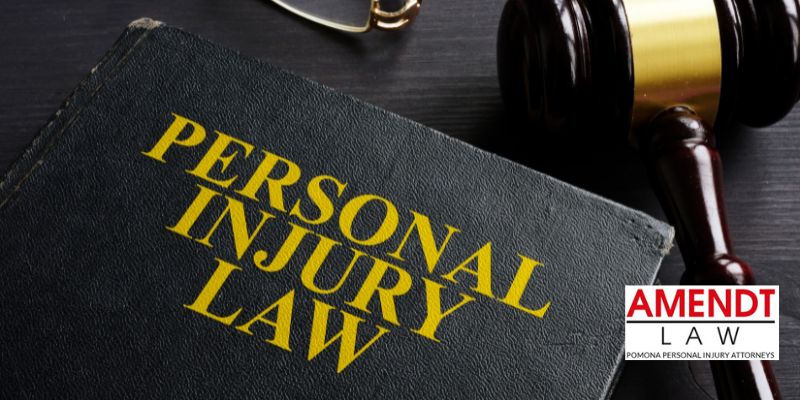 Representing Personal Injury Claims in Upland
An Upland personal injury attorney is a critical ally in this situation. An average person will not know how to navigate the civil claim process efficiently, nor will they know how to uncover the full value of their case by themselves. With the correct attorney handling your case, you are more likely to reach the optimal outcome with the maximum amount of compensation.
Amendt Law can provide the compassionate legal counsel you need in the aftermath of a personal injury. Our firm is family-owned and operated, and we have years of professional experience handling all types of personal injury cases on behalf of Upland area clients. When you hire our firm to represent you, we will do everything we can to get you the maximum recovery possible under the state's personal injury laws.
We Represent Numerous Kinds of Personal Injury Claims
When you need an attorney's assistance with a civil claim for damages, it's essential to choose an attorney who has a strong professional record of successful cases like yours. The correct attorney can have a tremendous positive impact on the outcome of any personal injury case, and the team at Amendt Law can provide the representation you need in your impending claim. A few examples of the types of cases we have handled on behalf of our Upland area clients include :
Claims for motor vehicle accidents. When another driver has caused an accident and injured you, their insurance may only cover part of your total damage. Also, the state has a high rate of uninsured drivers, so they may not have insurance at all. Our team can assist you in proving fault after your accident, navigating the insurance claim process, and building a personal injury case when you cannot fully recover through insurance alone.
Claims for dog bites. Dogs are popular pets, but any dog is capable of inflicting severe injuries on a person unexpectedly. If you suffered injuries from someone else's dog, our firm could assist you in leveraging the state's strict liability rule to recover compensation for your losses.
Claims for premises liability. If you were injured on another person's property because of their failure to maintain safe premises, this could form the basis of a premises liability claim. Slip and fall accidents and similar injuries fall within the purview of premises liability, and our firm has extensive professional experience handling these cases.
Catastrophic injury claims. A personal injury can potentially cause lifelong disabilities and medical complications. If a defendant's actions permanently injured you, our team could assist you in securing maximum compensation for your catastrophic injury.
In every case our firm accepts, we take time to learn as much as possible about the client and their experience. Our goal is to assist you in securing the most compensation possible under state law in the shortest time possible. As a result, in most cases, we are able to exceed our client's expectations in terms of their recovery.
Compensation for Your Personal Injury in Upland
It's natural for the victim of any personal injury to wonder how much compensation they could potentially obtain from a successful civil suit. Once our firm has helped you establish liability for your damages, we can then assist you in proving the full scope of the damages you can claim. Depending on how your personal injury occurred and the serious nature of its effects, you may be able to claim compensation for:
Medical treatment costs. If the defendant caused physical injuries, they could be made to pay for all the medical care necessary for you to achieve maximum improvement from the injuries you suffered. This includes immediate healthcare expenses following the injury, like your hospital bills, but you also have the ability to claim any long-term treatment costs associated with your injury.
Lost wages. If you cannot work because of the personal injury you suffered, the person who injured you can be ordered to replace the money you cannot earn during this time. Your Upland personal injury attorney can be crucial in proving the total amount of lost wages you can claim, which might include lost future earnings if they have left you permanently disabled, and you cannot return to work at all.
Property damage. When a defendant has damaged or destroyed your personal property, they are liable for all associated repair or replacement costs.
Pain and suffering. California law does not cap or limit compensation for a victim's pain and suffering for most personal injuries. However, your Upland personal injury attorney can assist you in determining a fair amount to reflect the serious nature of your experience and your condition following the incident in question.
Ultimately, many variables have the potential to influence your final award. With Amendt Law representing your claim, you can rest assured that our firm has the experience necessary to uncover every available avenue of compensation and maximize your case award. We can also help you determine the optimal path to resolving your case as quickly as possible. We'll try to settle your personal injury case if possible, but we are ready to represent you in litigation if necessary.
FAQs About Upland, CA Personal Injury Laws
Do I Need to Hire an Upland Personal Injury Attorney?
You are not legally obligated to hire representation for a personal injury claim. You could try to handle your case on your own, but you would face several significant challenges in doing so. The average person will struggle to meet the procedural demands of the court and may overlook key pieces of evidence that impact their case. They could also unintentionally settle for less compensation than they are rightfully owed. Working with trustworthy legal counsel will dramatically improve the results of your claim.
What Recompense Can I Claim for a Personal Injury?
California law lets plaintiffs in personal injury cases claim full repayment of all economic losses the defendant inflicted upon them. They may also claim compensation for a victim's pain and suffering that reflects the serious nature of the injuries they suffered and any long-term effects they face. Other variables may also come into play to influence the final outcome of the case. Ultimately, the potential value of any personal injury claim depends on the scope of the victim's losses.
How Long Will It Take to Settle a Personal Injury Case in Upland?
Most personal injury claims end in a private settlement, and the time required to complete this process depends on the scope of the plaintiff's claimed damages and whether the defendant accepts responsibility for their actions. When the defendant is clearly liable for the injury in question and the plaintiff has experienced legal representation, it's possible to resolve a personal injury case in a matter of weeks. However, if the case needs to go to court, this will take much longer to resolve, potentially several months to more than a year.
Will the Defendant Go to Jail for Causing My Injury?
A defendant in a personal injury case will only face criminal prosecution if they were criminally negligent or intentionally broke the law in causing the plaintiff's injury. For example, if you were hurt by a distracted driver, they would face liability for your damages but would be unlikely to face jail time. However, if a drunk driver injured you, they would face criminal charges, and jail time would likely be a component of their sentence.
What Will I Have to Pay an Upland Personal Injury Attorney?
The majority of personal injury attorneys representing clients in Upland and throughout the state take clients without any upfront costs. With a contingency fee agreement, the client only pays a legal fee after their attorney has won their case. Additionally, their fee is part of the total amount recovered. This billing arrangement keeps legal counsel accessible to those who need it most, regardless of their personal finances. Always verify a potential attorney's billing practices before agreeing to their counsel.
Amendt Law is a family-operated law firm focusing exclusively on personal injury claims in Upland and surrounding communities. Throughout the years of our firm's operation, we have assisted many clients in their efforts to recover compensation for your damages, and we're ready to put this experience to work for you. In addition, if you would like to learn more about your options for legal recourse in the aftermath of a personal injury, we are ready to assist you. Contact Amendt Law today to set up a free consultation with an Upland personal injury attorney you can trust with your recovery.