Experienced Wrongful Death Attorney in Pomona, CA
Whenever one party's actions result in injury and/or economic loss to another party, this is a personal injury. The victim has the right to seek compensation for their losses due to the at-fault party's actions. Unfortunately, not all victims of personal injuries survive these experiences. Fault may or may not be immediately clear, and the victim's family will likely wonder what legal options they have in this situation.
Representing Pomona Wrongful Death Claims
A wrongful death claim can help the surviving family of the victim of a fatal personal injury and ensures accountability for their loss. While similar to a personal injury case, a wrongful death suit is different in many ways, primarily seeking compensation for the surviving family's loss rather than damages sustained by the victim. Ultimately, any wrongful death claim can escalate to complex civil court proceedings, and you must have legal counsel you can trust in this situation.
If you recently lost a loved one due to the actions of any other party, a Pomona wrongful death attorney is the best resource to consult if you want to hold them accountable. A successful wrongful death claim will not return your lost loved one to you, but it can secure the compensation your family will need to transition through an incredibly difficult time. The sooner you secure legal counsel you can trust for this situation, the more likely you will reach a favorable result.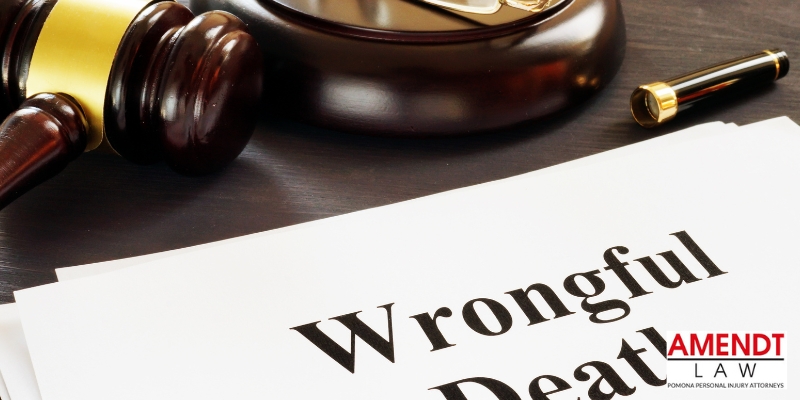 Filing a Wrongful Death Suit in California
Wrongful death claims share some procedural similarities with personal injury claims, but state law also imposes various restrictions that apply specifically to wrongful death suits. First, only certain parties in California have the right to file a wrongful death claim. If the deceased was married, their spouse is typically first in line with the right to take legal action, followed by the children of the deceased. If the deceased had no close family, the personal representative named in their estate could pursue a wrongful death claim instead. It is also possible for anyone to prove financial dependence on the deceased and/or a valid legal claim to the contents of the deceased's estate to file a wrongful death claim.
Success with a wrongful death claim requires proving that the defendant's negligence or intentional misconduct directly caused the death in question. In the event the defendant caused your loved one's death through the course of engaging in illegal activity, such as driving under the influence (DUI) of drugs or alcohol or interpersonal violence, they are likely to face severe criminal penalties in addition to civil liability for your family's wrongful death suit.
Damages and Compensation for Wrongful Death in Pomona
An experienced Pomona wrongful death lawyer can be instrumental in meeting your case's procedural deadlines with the court and maximizing the recovery you obtain from your civil action. State law also restricts the types of damages claimable in wrongful death suits:
The plaintiff of a wrongful death claim can seek compensation for funeral and burial expenses for their lost loved one.
Plaintiffs can seek compensation for the lost income provided by the deceased. A Pomona wrongful death attorney can help their client calculate lost earning capacity resulting from their loved one's death.
The plaintiff of a wrongful death suit has the right to seek compensation for the lost value of household services provided by the deceased.
The surviving spouse of the deceased can seek pain and suffering compensation for their loss of affection, consortium, and companionship provided by the deceased.
The deceased's family can seek pain and suffering compensation for their lost guidance, moral support, and personal interaction with the deceased.
It's important to note that a wrongful death claim highlights the surviving family's damages, not losses incurred by the deceased's estate. In the event there exist economic damages the deceased could have claimed in a personal injury suit if they had survived, the family could include a survival action with their wrongful death claim. As the name suggests, a survival action seeks compensation for the civil damages the deceased could have claimed if they had survived.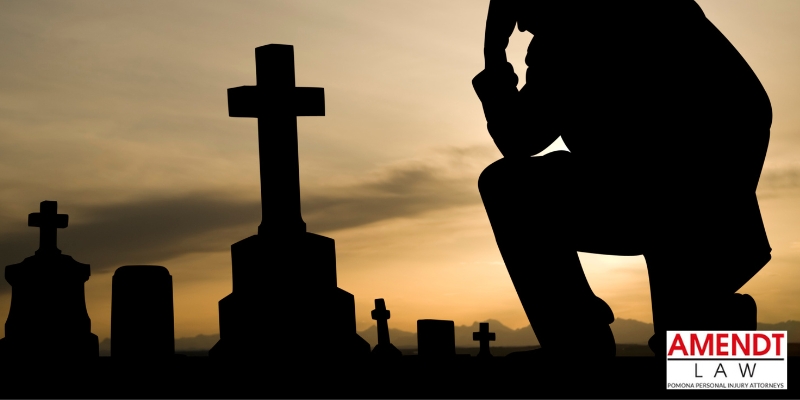 Common Causes of  Wrongful Death
If you believe you have grounds to file a wrongful death claim in response to the loss of your loved one, it's vital to seek legal counsel from an attorney with experience handling cases like yours. Wrongful deaths happen for many of the same reasons that personal injuries occur, such as:
Motor vehicle accidents. Auto insurance may only cover a fraction of the total damages resulting from a fatal crash. A wrongful death claim can help the victim's family hold the at-fault driver accountable for the death.
Premises liability. Property owners face civil liability if lawful visitors suffer fatal slip-and-fall injuries or other fatal accidents on their properties.
Dog attacks. Dogs can easily cause fatal injuries to people under certain conditions. As a result, California enforces strict liability for wrongful death for dog owners whose pets fatally injure others.
Workplace injuries. California law requires employers to carry workers' compensation benefits when workers sustain injuries on the job. Workers' compensation can provide death benefits after a fatal workplace accident, but the victim's family may also have grounds for further legal recourse with a third-party wrongful death claim.
No matter how the recent death of your loved one occurred, it is essential to speak with an experienced Pomona wrongful death attorney as soon as possible. Once you secure legal counsel, you can begin building your wrongful death claim to hold the defendant accountable for your loved one's death.
The wrongful death attorneys at the Law Offices of Christian J. Amendt have years of experience assisting Pomona, clients with complex wrongful death cases. We understand the emotional strain these cases cause and the difficult questions surviving family members have after these experiences. Rest assured that when you choose our team to represent your wrongful death suit in California, we will help you exhaust the full scope of your recovery options.
You have a limited time to file your wrongful death claim in California. The Law Offices of Christian J. Amendt can assist you in proving liability for the death and secure the maximum compensation possible under California law. Contact us today to schedule your consultation with our firm and get the answers you need to your most important legal questions.