Glendora Personal Injury Attorney
When another's negligence causes you harm, you have likely suffered a personal injury. The term "personal injury" can apply to any incident in which one party suffers harm due to the actions of someone else. The vast majority of personal injuries reported in Glendora and throughout California are the results of negligence, but it is also possible for intentional and illegal misconduct to cause serious personal injuries. If you believe any other party is responsible for harming you, you need to know how to hold them appropriately accountable for the harm they've done.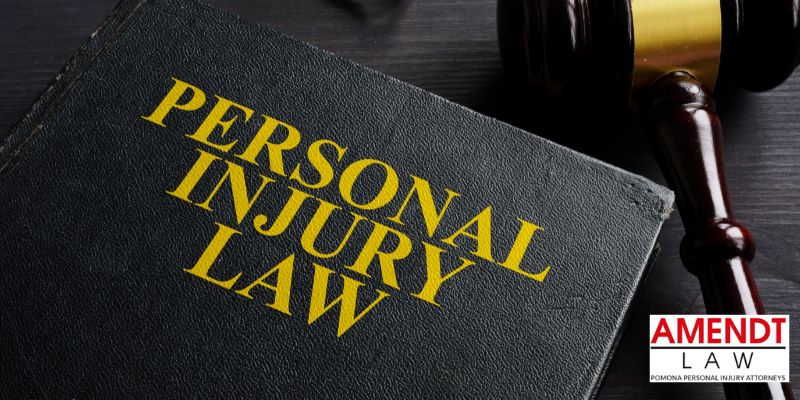 Experienced Legal Counsel for Personal Injury Cases in Glendora, CA
The attorneys at Amendt Law have years of professional experience helping clients in Glendora and surrounding communities with all types of civil claims for damages, and we are ready to apply this experience to your situation. We take a client-focused approach to personal injury counsel because we know that no two cases are exactly alike, and no two clients face the same challenges in their efforts to recover their losses. Whatever your case entails, you can trust our team to provide compassionate support through all stages of your recovery efforts.
Types of Personal Injury Cases We Handle
When you need to hire a Glendora personal injury attorney for your case, you want to find an attorney who has proven experience successfully handling cases like yours. Our team routinely provides effective legal support for a wide range of personal injury claims, including:
Car accident cases. Car accidents are a leading cause of serious personal injuries and fatal injuries each year. Our team can help file an insurance claim against the responsible driver and pursue a personal injury claim if their automobile insurance does not cover your losses completely.
Truck accident claims. Truck accidents, though rarer than car accidents, tend to be far more damaging. They can also raise difficult questions concerning fault due to vicarious liability coming into play, which means an employer bears fault for the actions of their employed driver.
Motorcycle accident cases. Motorcycle accidents have a high chance of resulting in catastrophic or fatal injuries, and victims of these accidents face not only incredibly severe medical complications but also difficult questions regarding fault and proving liability for their damages.
Dog bite claims. California is a strict liability state when it comes to dog attacks, meaning a dog owner is strictly liable for any harm their pet inflicts on another person, regardless of whether the dog has any history of past aggression. As long as the victim was legally present wherever the attack occurred and did not provoke the attack, strict liability applies, and the dog owner is responsible for the resulting damages.
Slip and fall claims. If you or a loved one suffered a slip and fall because a private property owner failed to properly maintain their property in Glendora, we can help you hold them accountable for your damages under the state's premises liability laws.
Catastrophic injury cases. A personal injury qualifies as catastrophic if the victim suffered permanent harm from the defendant's actions. Traumatic brain injury claims and spinal cord injury claims are just two examples of commonly filed catastrophic injury cases.
Wrongful death claims. When a personal injury is fatal, the victim's family will have the right to file a wrongful death suit in lieu of the personal injury claim the victim could have filed if they had survived. This type of case is similar to a personal injury suit in some ways, with a few important differences you must be prepared to address.
If you are unsure whether you can file a personal injury claim in Glendora, the first question you need to ask is whether you believe another party is directly responsible for the harm you suffered. If so, you likely have grounds for a claim, and you will need an experienced Glendora personal injury attorney to help you meet the procedural requirements of your case and successfully recover compensation for your damages.
Proving Fault for Your Personal Injury in Glendora
California's personal injury law states that the party responsible for causing your injury is liable for all associated damages. However, before the plaintiff can recover any compensation for the harm they suffered, they must not only prove who caused their damages but also the full extent of those damages.
When a personal injury happens because of negligence, the plaintiff must identify the defendant who caused their injury, prove they had a duty they did not meet, and then prove this breach directly caused their claimed damages. If a personal injury results from a criminal act, the defendant will face prosecution from the state alongside the civil claim from their victim.
Your Glendora personal injury attorney can be instrumental in proving a defendant's liability for your damages. Depending on the type of personal injury you experienced, you may need various forms of physical evidence from the scene of the accident, testimony from witnesses who saw the accident happen firsthand, and input from relevant experts who can explain the most complex details of your injury clearly for the court with expert witness testimony. If you were injured by the defendant and they did so while doing something illegal, your Glendora personal injury attorney can explain how that could impact your recovery.
Claimable Damages in a Glendora Personal Injury Claim
The main objective of any personal injury case is for the plaintiff to prove fault for their damages and recover compensation for those damages. The average plaintiff has grounds to claim various forms of economic compensation, which could include:
Property damage. If the defendant in your case damaged your home, your vehicle, or any other personal property, all the costs associated with repairing or replacing the damaged property can be cited as economic damages in your personal injury claim.
Medical expenses. Most personal injury claims filed are for physical injuries, and a liable defendant faces full responsibility for all medical expenses a plaintiff incurs because of their negligence or misconduct. The plaintiff has the right to claim compensation for immediate medical expenses plus the cost of any future medical care they will need to fully recover from their injuries.
Lost earnings. A plaintiff may not be able to work until they recover from their injury, in which case the defendant would be liable for the wages the plaintiff cannot earn during this recovery period.
Lost future earnings. Unfortunately, some personal injuries cause lasting harm that will prevent a victim from working in the future. If this applies to your case, your Glendora personal injury attorney can help calculate how much income you would have reasonably expected to earn in the future and add this to your claim as economic damages.
You may be able to account for immediately noticeable economic damages, but once you have a Glendora personal injury attorney help calculate the total long-term financial impact of your personal injury, you may find that you can claim a lot more in compensation than you had expected. However, you can also seek pain and suffering compensation from the defendant.
Do Pain and Suffering Affect Personal Injury Cases?
California's personal injury statutes enable a plaintiff to hold a defendant accountable for the physical pain and psychological distress the plaintiff experienced because of the defendant's actions. There is no limit on pain and suffering compensation in most personal injury cases, so if you suffered any significant harm from the defendant's actions, the pain and suffering compensation you receive from your claim could be the bulk of your total case award. Your attorney may seek an amount of pain and suffering that reflects the time it will take for you to fully recover, but if you suffered any permanent harm, they are more likely to seek a large lump sum instead.
Amendt Law has many years of experience handling a wide range of personal injury cases for clients in Glendora, and we are ready to apply this experience to your case. We know you probably have lots of pressing legal questions that you cannot answer on your own, and the sooner you connect with a trustworthy Glendora personal injury attorney, the sooner you can get the answers and support you will need to approach your recovery efforts with peace of mind.
Personal Injury Law FAQs
Q: How Long Do I Have to File a Personal Injury Claim in Glendora?
A: If you plan to file a personal injury claim in Glendora or anywhere else, you must meet the statute of limitations, or time limit for filing your claim. This statute begins on the date your injury happened and extends for two years in most personal injury claims. Some factors can extend or pause the statute of limitations. For example, if the effects of your injury are not immediately apparent, the statute might begin on the date you discovered the harm done to you.
Q: How Long Does It Take to Settle a Personal Injury Case in Glendora?
A: Most personal injury claims filed each year end in private settlement negotiations. If the plaintiff and defendant agree to negotiate and compromise on a mutually acceptable resolution to the case, they could resolve the personal injury claim in much less time than litigation requires. With a good Glendora personal injury attorney handling your case, it's possible to settle it in less than a month to a few months. Litigation, on the other hand, could take several months to more than a year, depending on the unique details of the claim.
Q: How Much Compensation Can I Claim for My Personal Injury?
A: California law allows the victim of a personal injury to claim compensation for all damages they suffered because of the defendant's negligence or intentional misconduct. The total case award you obtain could include compensation for your medical expenses, future medical treatment costs, lost wages, lost future earning potential, property damage, and your pain and suffering. Many variables can influence your potential case award, and your Glendora personal injury attorney can provide an estimate of all the compensation you may be able to recover from the defendant.
Q: What if I am Partially Liable for Causing My Personal Injury in Glendora?
A: It is possible for a plaintiff in a personal injury case to bear partial liability for their claimed damages and still recover compensation from the defendant. The state upholds a pure comparative fault rule that will apply in any civil case in which multiple parties share fault for the damages, including the plaintiff. Each liable party will have a fault percentage assigned by the judge overseeing the case. These percentages indicate what share of the claimed damages each liable party is responsible for repaying. If a plaintiff is assigned a fault percentage, they will have this percentage deducted from their final case award as a penalty.
Q: What Does a Glendora Personal Injury Attorney Cost to Hire?
A: The team at Amendt Law can provide the personal injury counsel you need to approach your case with confidence without adding to the economic strain you're experiencing. We take personal injury clients on contingency, meaning our client only pays an attorney's fee if and when we win their case. Additionally, their fee is a percentage of all the compensation we recover on their behalf, and they pay nothing if our firm cannot secure compensation for their damages.
Experienced Glendora Personal Injury Attorneys
An experienced Glendora personal injury attorney is an invaluable asset for anyone facing a complex civil suit. Whether you are certain another party is directly responsible for the personal injury you recently experienced or are unsure of your options for legal recourse in the aftermath of a serious personal injury, call our firm. You need to know what to expect from the situation ahead. Amendt Law is standing by, ready to provide the legal representation you need to approach your case with confidence. Contact us today and schedule your free consultation with a Glendora personal injury attorney you can trust to guide you through your case and advocate on your behalf.