San Dimas Personal Injury Attorney
A personal injury occurs whenever a person suffers harm due to another party's actions. It's possible for a personal injury to happen because of negligence or a failure to exercise reasonable care in a specific situation. It is also possible for personal injuries to result from illegal misconduct. If you or a loved one suffered a physical injury and/or economic harm in San Dimas, CA because of another party's actions, a personal injury attorney can potentially help you hold them to account.
Representing Personal Injury Claims in San Dimas, CA
An experienced San Dimas personal injury attorney can not only help prove fault for your personal injury but also help secure maximum compensation for the losses you suffered. You may be entitled to claim more compensation than you may expect, and the right attorney can unlock the full potential of your civil suit. The attorneys at Amendt Law can provide the comprehensive legal counsel you will need to approach your personal injury claim with confidence. Our firm has extensive experience with a wide range of various types of cases, and we are confident in our ability to handle the unique legal challenges your case may present.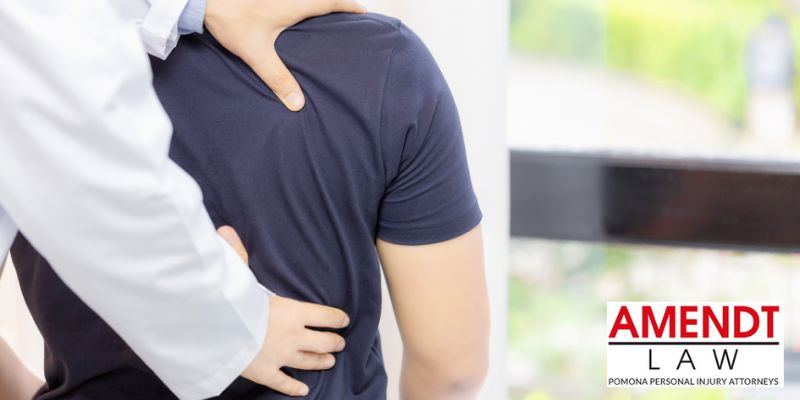 Types of Personal Injury Claims Our Firm Handles in San Dimas
When you need to file a personal injury claim against another party in San Dimas, it is possible to attempt the case on your own. However, do not assume that this is a good way to save money on legal fees. You could make various mistakes in the filing of your case, and it would be very challenging to manage your legal affairs on your own while struggling with medical complications from your injury. Even if you managed to succeed, you would risk settling for less than you legally deserve. If you want the greatest chance of success with your case, it is essential to work with an experienced San Dimas personal injury attorney.
When choosing a legal representative, it is important to select an attorney who has experience handling cases like yours. At Amendt Law, our firm routinely represents clients facing all types of personal injury cases, including the following:
Motor vehicle accident claims. Recovery from an accident that someone else caused in San Dimas will typically start with a claim against their auto insurance policy. Our team can help you navigate the insurance claim process and maximize your settlement. However, insurance alone may not cover the full breadth of your losses from a serious accident, and if this is the case for you, you can rely on our firm to build a personal injury claim that seeks maximum compensation for the damages.
Dog bite claims. Dogs are popular pets, but when a dog bites or otherwise injures a person without provocation, the owner is strictly liable for the victim's damages. We can help file a dog bite claim seeking maximum compensation for medical expenses and other damages resulting from an unprovoked dog attack.
Premises liability claims. Property owners are responsible for ensuring that their properties are safe for any guests or other lawful visitors to the property. If you suffered a slip and fall or similar injury due to a property owner's failure to maintain a reasonably safe premises, this could form the basis of a personal injury case under California's premises liability laws.
Catastrophic injury claims. Some personal injuries cause tremendous lasting harm. A catastrophic injury is any that results in a permanent disability, and the victim could face a host of immediate and long-term damages. Spinal cord injuries, traumatic brain injuries, and severe bone fractures are all potentially catastrophic injuries depending on the scope of their long-term or permanent effects.
Whatever type of personal injury you sustained, you have the right to seek recompense for your losses if another party is responsible for your injury. Before you can recover your damages, you must identify the party who caused the personal injury and prove that their negligence or misconduct was the sole cause of your damages. Proving fault for a personal injury typically requires a blend of physical evidence, digital evidence, and witness testimony. A San Dimas personal injury attorney is an invaluable asset for compiling a cohesive personal injury claim that soundly proves fault and establishes the extent of their client's claimable damages.
Recovering From Your Personal Injury in San Dimas
Personal injury claims have a particular objective — to recover compensation for the losses a defendant caused. Under California's personal injury statutes, the plaintiff has the right to seek recompense for any economic losses they suffered in the incident, such as property damage, medical expenses (now and in the future), and income lost. If a personal injury prevents the victim from returning to work in the future, they can claim compensation for the future wages they are no longer able to earn.
In addition to economic damages, a plaintiff may also seek recompense for the pain and suffering a defendant caused. State law does not limit pain and suffering compensation in most personal injury cases, so it is possible for this to form the bulk of a plaintiff's final case award if they suffered severe injuries. You could deserve more in compensation than you initially think, and working with the right attorney can significantly improve your chances of maximizing your total case award.
Amendt Law can work closely with you through every step of your case, from initial evidence gathering and court filings to proving the extent of your claimable damages. Our firm has successfully secured many significant case awards for past clients, and we are ready to put this experience to work in your impending personal injury case in San Dimas.
San Dimas Injury Lawyers FAQs
Q: What Is the Statute of Limitations for Personal Injury Claims?
A: If you plan to make a personal injury claim against someone else in the state, you have to do it within a two-year window. This window begins on the date the injury occurred, or it could begin on the date you discover harm from another party's actions. Do not assume that two years is more than sufficient time in which to file your claim, as you will need to compile evidence and establish the extent of your claimable damages before filing your civil suit against the defendant.
Q: How Do You Prove Fault for a Personal Injury in San Dimas?
A: To succeed with your personal injury suit, you must identify the party responsible for your injury and then prove how they caused it. You must also prove their actions resulted in actual harm or measurable damages of some kind. It's possible for a personal injury to arise from an act of negligence, or failure to uphold a specific duty of care, or it could happen because of some type of illegal misconduct. Your San Dimas personal injury attorney can help gather whatever evidence you will need to firmly prove liability for the damages.
Q: Can I Still Claim Compensation if I'm Partially at Fault for a Personal Injury?
A: Yes, under the state's pure comparative negligence law, you may still claim compensation for the damages, but you will lose a percentage of the final case award to reflect your shared liability. The judge handling your case will assign a fault percentage to each party bearing responsibility for the incident, and the plaintiff's fault percentage is taken from their case award as a penalty. For example, 10% plaintiff fault means the plaintiff loses 10% of the total compensation claimed from the defendant.
Q: Will a Defendant Go to Prison for Causing a Personal Injury?
A: It is possible for the defendant in a personal injury claim to not only face civil liability for the plaintiff's damages but also criminal charges from the state depending on how they caused the personal injury. If the injury resulted from simple negligence, criminal charges are unlikely. However, if they caused the injury through any illegal misconduct, they face prosecution along with their responsibility for the plaintiff's damages.
Q: What Percentage Do Most Personal Injury Lawyers Take?
A: The majority of personal injury attorneys representing clients in San Dimas and throughout the state charge a contingency fee for such cases, meaning that the attorney takes a percentage of their client's total case award when they win their case, and the client pays nothing if the attorney fails to secure compensation on their behalf. Most contingency fees are between 25% and 40% of the total case award, and each attorney has a different policy for determining appropriate contingency fees for their clients.
Amendt Law has years of successful cases behind us thanks to our commitment to providing client-focused legal counsel in every case we accept. We know that no two personal injury suits are exactly alike, and no two plaintiffs will face the same challenges as they seek recompense for their damages. You can trust us to provide ongoing guidance throughout your proceedings and to do everything in our power to maximize your final case award. Contact us right away to set up a free consultation with a San Dimas personal injury attorney and learn more about the legal services we provide.