Chino Personal Injury Attorney
Personal injuries most often occur from another person's carelessness, intentional harm, or negligence to act on their duty of care. Suffering a personal injury in Chino, CA that was someone else's fault can be frustrating and painful. You can hold that person accountable for the harm done to you, whether the harm was physical or financially impactful. A personal injury claim will allow you the time to heal with some financial stability and hold the other party responsible.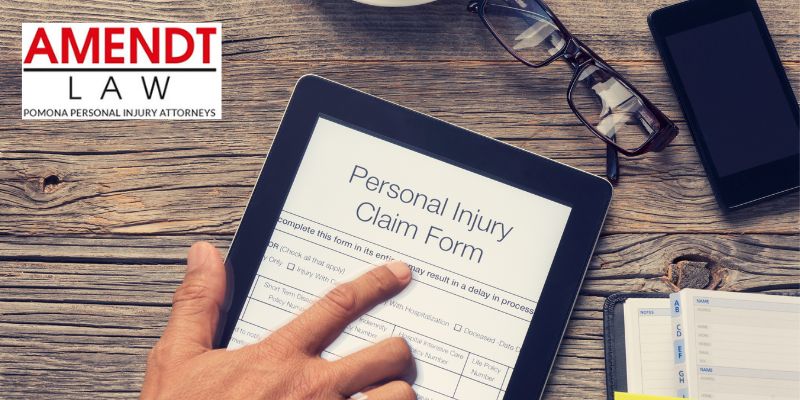 Amendt Law for Personal Injury Attorneys in Chino, CA
It's easier to file and succeed in your personal injury case with the help of a Chino personal injury attorney. Our firm has served the Southern California area for more than 24 years. We know your stress and frustration, and we work hard to get you the compensation you deserve. With our experience, we are more than capable of handling the specifics and complexities of your case.
We advocate hard for your rights, from negotiations in settlements to litigation. We use our assets and connections to build the argument for your claim because we believe the wrongs done to you must be fixed. When we work with you, we want to be sure you are comfortable and able to work with our compassionate team.
What Is a Personal Injury Claim?
Personal injury claims are part of civil claims court. Many personal injury cases include car accidents, medical malpractice, and premises liability. To win a personal injury claim, you must prove that the other party's failure to act with reasonable care was the cause of your injury. If you were partially responsible, you might still be able to get compensation under California law. However, if the other party can't be proven responsible, you likely won't be successful. Discuss the specifics of your case with a qualified personal injury attorney to determine if they are likely to earn you damages.
Personal Injury Cases We Handle
To earn compensation for the harm done to you, your legal representation needs to understand the ins and outs of your claim. You need an attorney with experience in the type of personal injury you're dealing with. At the Amendt Law, we have experience in representing the following types of personal injury claims:
Car Accidents
Auto accidents are some of the most common personal injuries. Negligence frequently causes accidents, often because of impaired or distracted driving. Drivers on the road owe each other a duty of care. Examples of failure to uphold that duty of care while driving include:
Eating food or drinking
Texting or otherwise using a phone
Focusing on things outside of the road
Being intoxicated or under the influence
Turning to talk or fix something in the car
Driving illegally, such as speeding or ignoring road signs
These forms of carelessness can cause accidents. Insurance companies can provide some financial relief in an accident, but sometimes it isn't enough. If you are harmed by a driver who doesn't have insurance or doesn't have enough insurance to cover your damages, you may need to file a personal injury claim.
Truck Accidents
Certified truck drivers have a higher duty of care than other drivers because their vehicles can cause more harm than most. People who operate commercial trucks are highly vetted and undergo rigorous training; many take that responsibility seriously. However, some fail to uphold their duty of care and may cause accidents for several reasons. Accidents with a truck are much more likely to cause severe injury or death, and you don't want to negotiate with the company's insurance providers without an experienced attorney.
Bicycle Accidents
When cars and bicycles are involved in accidents, bicyclists suffer much worse injuries. California law states that drivers must share the road with bicyclists, but many drivers fail to take appropriate care. A driver may:
Fail to yield to bikes
Drive in or pass other cars in bike lanes
Change lanes without looking for cyclists
Drive too fast around parks and trails which see bike traffic often
Bicyclists can potentially share fault for accidents, but the car driver is often at fault.
Pedestrian Accidents
Pedestrians suffer significantly greater injuries in a car accident. If this was caused by the driver's negligence to check a crosswalk before turning or driving onto a sidewalk, the pedestrian can hold the driver liable for personal injury.
Motorcycle Accidents
Both motorcyclists and drivers on the road are highly likely to cause collisions with each other, and motorcyclists are much more likely to see severe harm or death. Drivers often fail to check for motorcycles, crowd their space on the road, or maneuver dangerously. These are all negligent behaviors. The driver can be held liable if these behaviors lead to an accident. Motorcyclists can cause accidents by speeding, failing to adhere to signals and road rules, or moving in and out of lanes.
It is both drivers' and motorcyclists' responsibility to practice care on the road, and either party can file a claim against the other for negligence. Because motorcyclists usually sustain the most damage, it's uncommon that car drivers must file claims against the motorcyclist.
Premises Liability
Premises liability accounts for a large part of the personal injury claims system. Owners or managers of a property are responsible for the safety and upkeep of their premises. Property owners must fix or provide proper warnings of dangerous areas in a timely manner. If you suffer injury as a lawful visitor, they are liable for your damages. You could suffer injury from dangerous building conditions such as:
Obstructed or slippery floors
Broken or no handrails on stairs or balconies
Unsecure elevators or stairs
Dim or poorly-lit paths
Lack of warning signs for dangerous areas
Improperly secured hanging signs or decorations
Many public premises must be safe under law. If you were harmed on someone's premises, talk with a personal injury attorney.
Dog Attack Injuries
Dog owners are responsible for their dogs, and California law upholds a strict liability for dog owners. Dog attacks can be very frightening, and the owner of the animal is responsible for their dog's behavior. If their dog bites you, the attack was unprovoked, and you were not in the location illegally, you can hold the owner liable for the harm done to you.
Catastrophic Injury
Catastrophic injury claims are personal injury claims where you have suffered permanent disability or health complications as a result of your injury. These significant costs require more compensation to cover, as you will likely need to deal with medical bills for many years. These injuries may include traumatic brain injuries, amputations, and spinal cord injuries. You can hold the responsible party accountable to cover current and future bills and damages.
Wrongful Death
Wrongful death claims can be filed by a victim's loved ones. It is filed in place of the personal injury claim your loved one is unable to file. Though financial compensation will never make up for your loss, it can provide you stability, especially if you were financially dependent on your lost loved one. If you lost a loved one because of another party's negligence, you can file a wrongful death claim. This can provide for lost income, medical bills from before your loved one passed, and funeral expenses.
If you believe your injury falls into one of these personal injury claims, the Amendt Law can represent you in your claim.
How Can a Personal Injury Attorney Help Me?
Filing a personal injury claim yourself is a complex process, and it can be made harder when you're still recovering from your injury. Any mistakes can cost you time, energy, and money, and may even cost you your rightful compensation. If your settlement goes to litigation, you may have to represent yourself. By hiring the right attorney, you can provide yourself the time to recover, not have to directly deal with insurance companies, and allow your attorney to handle the proper filings.
Attorneys have experience with the legal process you'll be facing, and know the wide range of damages your claim may be awarded. Legal representation drastically increases your likelihood of success in personal injury claims, and an attorney will work to maximize the compensation amount you receive.
Settlements for Personal Injury Claims
The settlement amount for winning a claim will vary depending on your injury, your income, and the likelihood of future losses, among other factors. Compensation will often cover:
Medical costs associated with the injury, including hospital stays and surgery
Lost income from the time you would have been working
Lost income for future lost work or lost earning capacity
Pain and suffering if the other party was malicious or especially negligent
Cost of work retraining or accommodations
Working with a Chino personal injury lawyer will help you understand what damages you could likely be awarded.
How to Prove Negligence in a Personal Injury Claim
Filing a claim for personal injury means you and your attorney have the duty to prove the negligence of the other party and prove the negligence that led to your injury. To do so, you must have evidence that the other party owed you a duty of care or broke the law in some way. Evidence may include:
Photos of your injuries
Eyewitness accounts and interviews
Medical documents
Video evidence of the incident
Photos of the scene of the accident
An attorney's resources are often invaluable in obtaining these documents and information. Your attorney will gather this information and determine what is useful in upholding your claim.
Civil Court vs. Criminal Court
Most personal injury claims are part of the civil court system. In some instances, a case may overlap with the criminal court. In a civil claim, you may drop the charges at any time, but a criminal court prosecutor is an extension of the law, and cases rarely get dropped.
Your personal injury claim may overlap with the criminal court system if the person you are filing against also committed a crime during the incident. If they were driving under the influence or on the property illegally, they may have criminal charges pressed against them by the government. Speaking with an attorney about how this impacts your claim can be helpful.
FAQs About Chino, CA Personal Injury Laws
What percentage do most injury lawyers take?
Every attorney will have different practices, but the average in California is 33%. Not every attorney works on a contingency fee, and some may charge hourly. It's important to discuss with potential attorneys how they charge so that you know you can afford services until your claim is completed.
What if you can't afford a lawyer for a personal injury case?
Many attorneys work on a contingency fee. This means that they are only paid once they secure a settlement or a successful outcome to your claim. You don't pay out-of-pocket fees: instead, you pay a percentage of your settlement. This percentage depends on the complexity of your claim and could range from 30 to 40%.
How quickly do you need to sue someone for personal injury in California?
The California statute of limitations for personal injury claims is two years. As long as you file within two years of the date of injury, you're legally allowed to file a claim. However, the sooner you file, the more successful your claim is likely to be. Waiting may let evidence or important information be lost, forgotten, or buried. For some, they have a delayed injury, and don't know they are harmed. File a claim as soon as you know you have an injury if this is the case.
What are some tips to hire a personal injury lawyer?
Determine a local attorney with experience with your type of personal injury. Hiring an attorney in the area you will be filing your claim is useful because then your attorney will have connections and experience with those courts. Verifying the firm's legitimacy and track record with reviews and other past clients is important. When you talk with an attorney in a consultation, come prepared with questions regarding their experience with your type of claim and the expected outcome for your claim.
Get the Legal Representation You Deserve
Contact Amendt Law today if you've been injured by another person's carelessness.