Claremont personal injury attorney
A personal injury happens when one party causes physical injury or financial loss to another party. Most personal injuries arise from acts of negligence or failure to exercise appropriate care in certain situations. However, they may also occur from acts of intentional misconduct, often resulting in criminal charges for the defendant alongside their liabilities to those they have injured. After a personal injury, many people don't know if they have any recourse. A skilled attorney can offer you insight into your next step and whether pursuing a personal injury case is the right approach.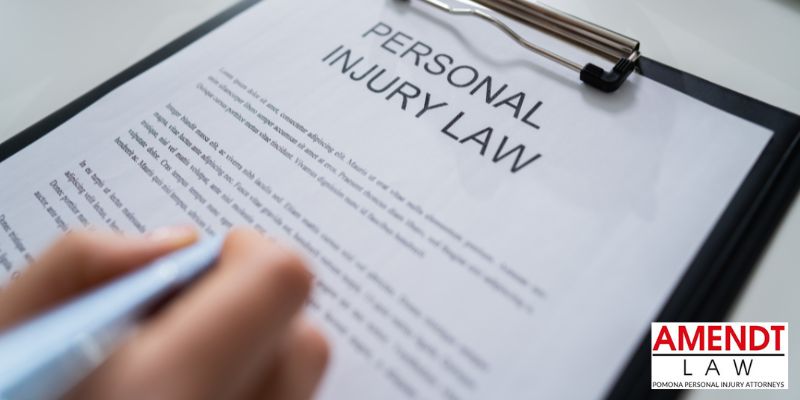 Experienced Personal Injury Counsel in Claremont, CA
If you struggle with damage that another party caused, a Claremont personal injury attorney is the best asset to have on your side if you wish to hold them appropriately accountable. An experienced legal team will help their client identify every available channel of compensation, explore the scope of evidence and testimony available to support their claim, and guide them through whatever proceedings are necessary for ensuring a suitable recovery.
Amendt Law offers extensive personal injury experience for a wide range of cases in the Claremont area. We understand how to help our clients prove liability for a personal injury and establish the scope of their claimable damages. Whatever your unique situation entails, you can rest assured that the team at Amendt Law will take the time to listen to your story and provide the comprehensive and personalized legal counsel you need to recover in peace.
Kinds of Personal Injury Claims Our Firm Accepts
Whenever you believe you have grounds to file a personal injury claim, it is important to take the time necessary to find an attorney with solid experience handling cases like yours. At Amendt Law, our team is confident and provides individualized legal counsel in a range of injury cases, including:
Motor vehicle accidents. Vehicle accidents consistently rank among the top-cited causes of accidental injuries and deaths throughout the country each year. Our firm has experience with car, truck, and motorcycle accident cases. We can also assist bicyclists and pedestrians injured by negligent motorists in the Claremont area, guiding them through both auto insurance claims and subsequent personal injury cases.
Dog bites. California's strict liability law for dog bites means the owner of a dog responsible for an unprovoked attack is fully responsible for all injuries the pet caused. Therefore, if another party's dog injured you while you were legally present on site when you were attacked, we would help you hold the dog owner responsible for the damage caused.
Premises liability. Every property owner has a duty to ensure their property is safe for visitors who are on the property lawfully. This means they must address any and all foreseeable safety issues immediately or at least warn visitors and guests about them if they are likely to encounter those issues while on the property.
Construction accidents. Construction is statistically the most dangerous industry, responsible for most of the workplace injuries and missed days from work reported in the United States each year. Amendt Law can assist the victim of a construction injury with their recovery efforts, which may include a workers' compensation claim followed by a personal injury claim naming the party who caused their injury.
Catastrophic injuries. A "catastrophic" personal injury is one that permanently harms the victim. Paralysis, severe traumatic brain damage, internal organ failure, and severely disfiguring injuries are just a few examples. Our team has helped many victims of catastrophic injuries secure compensation for their immediate and future losses resulting from these incidents.
Wrongful death. If a personal injury victim doesn't survive, the loved ones who survive would be legally allowed to file a wrongful death suit against the party responsible for the death. While this type of civil claim shares many similarities to a personal injury case, there are several important differences you must understand before opening your claim, and it's essential to find an attorney experienced with this type of claim.
If you have determined that another party is responsible for the personal injury you or a loved one recently suffered, Amendt Law is ready to provide the comprehensive legal counsel you need to maximize your recovery. In addition, we will do everything we can to streamline your legal proceedings as much as we can to shorten the time it takes you to secure compensation for your damages and start rebuilding your life after a personal injury.
Filing a Personal Injury Claim in Claremont
Every personal injury claim filed in California must fulfill several procedural requirements. First is the statute of limitations, or the time limit for filing the claim. In the state, the statute of limitations for most personal injury cases is two years from the date of the injury. Therefore, it's always best to begin your case proceedings as soon as possible after an injury occurs to have the best chance of success with your recovery efforts.
Once you have identified the person or party you believe is responsible for your injuries, your Claremont personal injury attorney will help you gather the evidence needed to prove their fault. When a personal injury results from negligence, the plaintiff must demonstrate that the defendant owed them a duty they breached in some way and caused the damage the plaintiff claims. Next, the plaintiff must provide proof of the damage caused by the defendant; they must also clearly establish causation. This means there can be no question that the plaintiff's claimed losses occurred directly due to the negligence of the defendant.
Amendt Law can assist our clients in gathering physical evidence at the site where their injury occurred. We can also find witnesses who saw the injury occur and secure their statements to help our clients firmly establish responsibility for their claimed damages. Our goal in every case we accept is to help our client approach their personal injury claim proceedings with confidence and maximize their compensation.
Claimable Damages in Most Personal Injury Cases
California law allows the plaintiff of a personal injury case to seek full repayment of the financial losses they suffered from the defendant's negligence or misconduct. For most plaintiffs in Claremont, these economic damages are likely to include lost income, medical expenses, and property damage.
If the defendant damaged your home, vehicle, or other personal property in addition to your physical injuries, they must pay for all associated repair or replacement costs. However, when it comes to your medical expenses, they are responsible for the medical care you require to reach maximum medical recovery from your injury. For example, this can include hospital costs and prescription costs, but if you face long-term complications, the defendant must pay for the cost of the treatment you require until reaching maximum medical improvement.
Lost income can be more difficult to assess, as it is possible for the plaintiff to recover both immediate lost wages and lost future income. If your injury will heal within a relatively short time and you will be able to return to work, the income you lose is the defendant's responsibility. On the other hand, if you cannot return to your job due to your injury, or you have been permanently disabled from the injury and cannot work again, the defendant would be responsible for all the income you could have earned during your career if you hadn't been injured.
State law also allows a personal injury plaintiff to seek compensation for pain and suffering. Compensation for most personal injury claims has no limits, so any plaintiff who has suffered a catastrophic injury may find that their pain and suffering award eclipses all their other recovered economic compensation. If you want the best chance of maximizing this aspect of your recovery, it's crucial to work with an experienced Claremont personal injury attorney as soon as possible after the incident that caused your injury.
Finding Legal Counsel You Can Trust in Claremont
Any personal injury has the potential to be a life-changing event in more ways than one. It's essential for anyone faced with this type of situation to have reliable legal representation they can turn to for guidance and support. When you choose Amendt Law to represent your case in Claremont, you will have immediate access to a dedicated legal advocate you can trust to guide you through your proceedings with confidence.
Time is a critical consideration for anyone thinking of filing a personal injury claim. Swift legal action helps to preserve the freshness of the evidence and witness testimony that you may need to firmly prove responsibility for your damages. Amendt Law is ready to provide the compassionate and responsive legal counsel you need for your case in Claremont. We take time to learn each client's story, help them accurately assess their claimable damages, and prepare them for the difficult proceedings their cases often entail. While we seek to settle our clients' claims quickly, we have the tools and experience necessary to represent you through complex litigation if necessary.
FAQs About Claremont, CA Personal Injury Laws
What Percentage Do Most Personal Injury Lawyers Take?
Most of the personal injury attorneys representing clients throughout the state accept cases on a contingency fee basis. The client does not pay any upfront or ongoing legal fees for their representation, and they pay nothing at all if the attorney cannot secure compensation on their behalf. However, when the attorney wins, they pay a portion of the final award as their legal fee. Contingency fees typically range from 25% to 40% of the final award, and the exact amount usually depends on the scope of the plaintiff's damages and the complexity of their case.
Will I Get a Larger Settlement or Case Award With a Claremont Personal Injury Lawyer?
Hiring legal counsel you can trust not only increases your chances of winning your case but also of maximizing your compensation to the fullest extent allowable under state law. When you choose Amendt Law to represent your injury case, we will do everything we can to maximize the compensation you secure from the defendant. Our team has years of experience handling a range of injury claims and will leverage this experience on your behalf through every stage of your case.
How Long Does It Take to Settle a Personal Injury Claim in Claremont, California?
Most of the personal injury cases filed in the state end in a private settlement. The settlement negotiation process allows all parties involved to reach an expedient resolution while saving money on legal fees. If the defendant accepts liability for their actions, it's possible to settle most personal injury claims within a few weeks. However, if a personal injury claim must be resolved through litigation, it could take months to conclude.
What if I'm Partly at Fault for My Injury?
California upholds a pure comparative fault rule that comes into play whenever a plaintiff shares fault for a personal injury with a defendant. The judge overseeing their case assigns a fault percentage indicating each party's level of responsibility for causing the damages in question. The plaintiff's fault percentage will be subtracted from their final award. For example, 20% fault would mean they would lose 20% of their final compensation.
Is It Worth Filing a Personal Injury Claim in Claremont?
Do not make the mistake of thinking your case would cost more to file than you could secure in compensation for your damages. This misconception, unfortunately, deters many personal injury victims from seeking legal counsel when they need it most. When you hire an attorney with a contingency fee, you face no financial risk in hiring them for your case, and you will only part with a portion of your final award if you win.
Get the Legal Help You Need From Amendt Law
Amendt Law has helped many clients in Claremont and surrounding communities with their personal injury claims, and we will develop a uniquely tailored legal strategy that fits your case and take the time necessary to get to know you and your situation. Contact Amendt Law today and set up a free meeting with a Claremont personal injury attorney to start working toward the recovery you deserve.