Walnut Car Accident Attorney
Car accidents are a leading cause of accidental injuries and deaths in Walnut each year. When these accidents happen, it's vital for the drivers involved to know their rights and their legal options for recovering their damages. As a fault state, California requires that an injured driver prove fault for their car accident before they can claim any compensation for their losses through auto insurance and/or a personal injury suit. This is more challenging in some cases than others and any car accident victim benefits by securing legal counsel they can trust.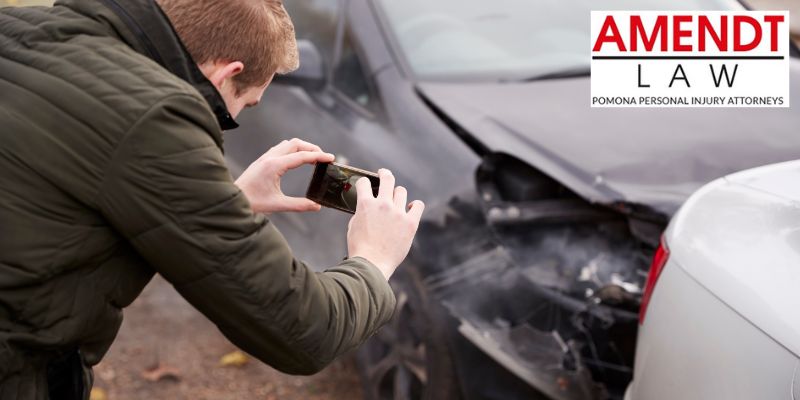 Experienced Legal Counsel for Car Accident Victims in Walnut, CA
Amendt Law is a seasoned team of personal injury attorneys in Walnut with years of professional experience handling all types of vehicle accident claims. We know the many legal challenges you might encounter as you attempt to prove liability for your damages and hold the at-fault driver appropriately accountable for the harm they've inflicted. You have a limited time in which to file a personal injury claim under state law and an even shorter time limit for an automobile insurance claim, so the sooner you reach out to our team for assistance, the better your chances are of maximizing the results of all your recovery efforts.
Proving Liability for Your Car Accident in Walnut
Most of the motor vehicle accidents reported in the Walnut area each year are the result of negligence, or failure to exercise reasonable care and caution behind the wheel. Distracted driving, moving violations, and speeding are common examples of how drivers' negligence can easily cause devastating accidents. It is also possible for intentional and illegal misbehavior behind the wheel to cause accidents, such as reckless driving or driving under the influence (DUI) of alcohol or drugs. In these cases, at-fault drivers face criminal charges as well as civil liabilities for the damages they caused.
Your Walnut car accident attorney can help gather various forms of evidence you may need to prove fault, including vehicle computer data, recordings from traffic cameras near the scene of your accident, eyewitness testimony from others who saw the accident happen, driver cell phone records, and more. It's important to remember that you could still have grounds to seek compensation for your damages even if you share liability for the accident. California enforces the pure comparative negligence rule, so any plaintiff who shares liability for their claimed damages will lose a percentage of their final case award to reflect their level of liability.
Filing Your Auto Insurance Claim for a Car Accident
Once you have proven fault and gathered the evidence needed to prove the full extent of your damages, you can then file your claim against the at-fault driver's insurance. Confronting any insurance company can be daunting, and most insurance carriers train their representatives to look for all reasons they can find to justify the lowest possible settlement offers or to outright deny claims for coverage.
When you have a Walnut car accident attorney assisting you, you will be far less likely to encounter any bad-faith tactics from the at-fault driver's insurance carrier. Once you receive your settlement offer, your legal team can verify that it is reasonable under the terms of the at-fault driver's policy, and then they can assess your remaining damages that insurance can't cover. The next step in your recovery process will be to file a personal injury suit against whoever caused your accident.
Building Your Personal Injury Case in Walnut
The goal of a personal injury claim is for the plaintiff to recover as much compensation as they require to be as whole as possible again after another party has injured them. Your Walnut car accident attorney can help you recover as much compensation as possible through insurance and then help you claim any other losses with your personal injury suit. Under the state's personal injury statutes, a plaintiff has the right to claim compensation for:
Medical expenses. The defendant who injured you is responsible for immediate and future medical treatment costs arising from the accident. Your Walnut car accident attorney can consult your medical care team to ensure the defendant faces full liability for both immediate and future damages resulting from the accident.
Lost income. If you cannot work due to the accident, The defendant is responsible for replacing the income you are unable to earn. This includes lost wages immediately following the accident as well as future income you can no longer earn. A good attorney can calculate the total of your lost earning potential and add this as economic damages to your personal injury suit.
Property damage. Your auto insurance claim against the at-fault driver may provide some compensation for vehicle repair costs, but any outstanding losses must be sought through your personal injury claim.
Pain and suffering. The plaintiff in a personal injury case has the right to seek financial compensation for the physical pain and emotional distress they experienced due to the defendant's actions. There is no limit to how much they can claim, but the amount sought should be a reasonable reflection of the severity of their damages and the time it will take them to recover as fully as possible.
Your car accident claim in Walnut may be worth much more than you may initially expect. When you choose Amendt Law to represent your case, you will have a responsive legal advocate ready to provide guidance and support through every stage of your case. We have helped many car accident victims confront the largest auto insurance carriers in the state and build comprehensive civil suits against the drivers responsible for injuring them. Whatever your case entails, you trust our firm with your recovery efforts, and the sooner you reach out to us, the more time we have to build the strongest case possible for you.
Car Accident Lawyer FAQs
Q: Do I Need to Hire an Attorney After a Car Accident in Colorado?
A: The state does not enforce a law requiring you to hire legal representation for a car accident claim, but having legal counsel that you trust on your side makes a recovery from your accident much easier. You will be more likely to maximize an automobile insurance claim settlement and more likely to receive the most compensation possible from a subsequent personal injury claim with their assistance. It is always worth investing in a Walnut car accident attorney if you want to reach optimal results in your recovery efforts.
Q: How Long Does It Take to Resolve a Car Accident Case in Walnut?
A: The time your case could require to reach a conclusion depends on several factors, most notably the extent of your damages and the willingness of the defendant to accept liability for the accident. Your Walnut car accident attorney can streamline the auto insurance claim filing process and assist you in building the strongest personal injury claim possible to encourage the defendant toward a swift settlement. Some cases can be resolved in a matter of weeks, while others may take several months to conclude.
Q: What Happens if a Car Crash Is Fatal in Walnut?
A: If you have lost a family member in a fatal car crash, you likely have grounds to pursue a wrongful death suit against the at-fault driver. This type of civil claim is similar to a personal injury claim in many ways and can help your family recover the losses that car insurance cannot repay. An experienced attorney can assist you in maximizing your wrongful death settlement.
Q: What Is a Car Accident Claim Worth in Walnut?
A: Under California law, the driver who caused your recent accident is fully responsible for all damages they inflicted. These may include your vehicle repair bills, medical treatment costs for the injuries you suffered, and compensation for lost income when you are unable to work after your accident. You also have the right to claim pain and suffering compensation, and the total value of your car accident claim may also fluctuate based on other variables. An experienced Walnut car accident attorney can provide an estimate of your claim's total value.
Q: What Are Attorneys' Fees for a Walnut Car Accident Attorney?
A: It's natural to worry about how much it could cost you to hire an experienced attorney for your impending case, but this is no cause for concern if you choose Amendt Law to represent you. Our firm accepts personal injury cases on a contingency fee basis. This means you are only required to pay a fee if and when we win your case, and your fee will be a percentage of the total amount recovered. If we are unable to secure compensation for your damages, there is no fee at all, so there is no financial risk to choosing our firm to represent you.
Amendt Law has years of successful motor vehicle accident claims behind us because of our commitment to compassionate and meticulous legal counsel in every case we represent. If you are unsure how to recover your losses from your recent car accident, we can help. Contact Amendt Law today and schedule your free consultation with a Walnut car accident attorney to start working toward your recovery with peace of mind.