Azusa Car Accident Attorney
Car accidents can happen unexpectedly in countless ways in the Azusa area, and every driver faces risks every time they get behind the wheel. However, when one driver is responsible for causing an accident with another driver, the victim needs to know how to ensure accountability and how to recover compensation for their damages. An experienced Azusa car accident lawyer will be invaluable for their recovery efforts.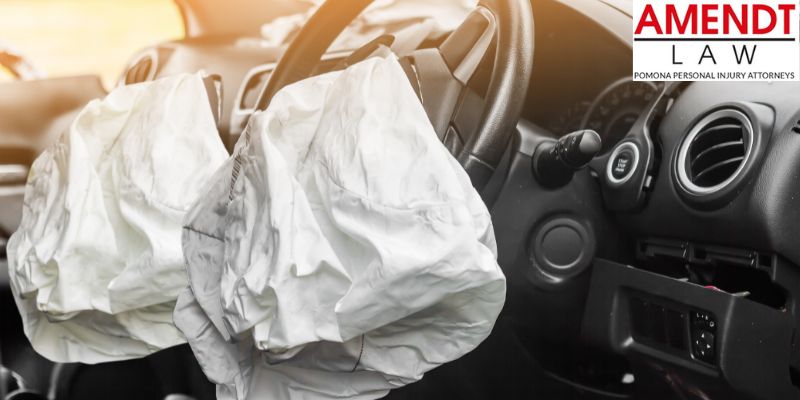 Helping Car Accident Victims Recover in Azusa, CA
Amendt Law is an experienced team of attorneys with years of successful cases behind us. We have helped many past clients recover from all types of personal injuries, including those resulting from motor vehicle accidents.
We know the various legal challenges you could encounter as you seek accountability for the harm you've suffered, and we know how to guide you through the auto insurance claim filing process and a subsequent personal injury suit against the at-fault driver.
While it is technically possible for you to pursue compensation for your damages on your own, hiring an attorney to assist you offers tremendous value. Not only can you focus on your recovery with peace of mind, but you will also be more likely to maximize your total compensation with their assistance. They can help you recover as much as state law allows in the shortest possible timeframe.
Every car accident case is unique, and every plaintiff will face different challenges and opportunities. When you hire Amendt Law as your legal counsel, we can immediately get to work helping you secure any evidence you will need to prove fault, assess the full scope of damages you are entitled to claim, and prepare you for the legal proceedings ahead.
Common Causes of Accidents in Azusa
Car accidents happen for many reasons, and if you believe another driver is responsible for causing your recent accident, proving their fault will be an essential first step in your recovery efforts. You will need to prove exactly how the accident happened and prove the at-fault driver was directly responsible for your resulting damages. A few of the most common causes of accidents that lead to civil suits in Azusa include:
Distracted driving. This is one of the most common causes of vehicle crashes throughout the US each year. Proving liability for a distracted driving accident may require driver cell phone records, witness testimony, and video footage from traffic cameras situated near the scene of the crash.
Whenever a driver breaks the speed limit, they are not only increasing the chances of an accident happening but also increasing the likelihood of the accident resulting in catastrophic or fatal injuries. Vehicle computer data and physical evidence are often used to prove that a driver was speeding when they caused an accident.
Moving violations. Drivers are required to heed posted traffic signals and move with the flow of traffic. When they perform illegal turns, run through red lights or stop signs, or fail to yield the right-of-way where necessary, these actions can easily result in serious accidents. Witness testimony and traffic camera recordings are often vital for proving fault for these accidents.
Intoxicated driving. Any type of driving under the influence (DUI) of alcohol or drugs is illegal in California and can lead to severe penalties. Unfortunately, DUI continues to be a pervasive problem throughout the US and a leading cause of serious accidents in the Azusa area. If the driver who caused your recent accident did so by breaking the law, your Azusa car accident attorney can explain how this could impact your recovery.
Proving the exact cause of your accident will be an essential first step toward recovering your losses. You will need to identify the at-fault driver or drivers and prove how they caused the accident in question before you can proceed with claiming compensation for your damages.
It is important to remember that many car accidents in California are the result of multiple drivers' negligence and misconduct behind the wheel. It is possible for more than one driver to bear fault for your damages, and you may also be found partially liable. Under California's pure comparative negligence rule, you would still be able to claim compensation for your losses in this situation, but you would lose a percentage of your case award as a penalty.
Recovering From Your Car Accident in Azusa
Every driver in California is legally obligated to have auto insurance that meets basic coverage requirements. At minimum, a driver must have $15,000 or more in bodily injury liability coverage for a single person, at least $30,000 in total accident coverage for injuries to multiple people, and at least $5,000 for property damage liability.
These coverage requirements may be sufficient to compensate the victim of a minor accident but are unlikely to yield full compensation for your losses if you suffered any serious injuries. Additionally, dealing with insurance carrier representatives can be very stressful. Having an experienced Azusa car accident attorney helping you with your claim will streamline this process and encourage the insurance carrier to process your claim in good faith.
Once you receive your settlement from the at-fault driver's insurance carrier, your Azusa car accident attorney can help you determine whether you have outstanding damages you can claim from them with a personal injury suit. If so, you must file a personal injury claim within the statute of limitations, which is two years from the date your accident occurred.
Under California's personal injury laws, a plaintiff has the right to seek compensation for any economic damages not covered by the defendant's insurance. In most cases, these are likely to include property losses, medical expenses, and lost wages, and the plaintiff may also claim projected future losses, such as their diminished earning capacity, if they suffered severe injuries.
Beyond economic damages, the plaintiff may also seek compensation for their pain and suffering, and California sets no limit on pain and suffering compensation in car accident claims. You have the right to seek as much as you believe to be reasonable to reflect the severity of your injuries and the scope of long-term harm the defendant caused. An Azusa car accident attorney will be invaluable for all of the recovery efforts you attempt after your accident.
Azusa Car Accident FAQs
Q: Is California a No-Fault Car Accident State?
A: No. California upholds the fault rule for resolving all motor vehicle accidents, meaning the driver at fault for an accident faces liability for all resulting damages. You must prove fault before you can file an auto insurance claim and/or personal injury suit to recover your losses. The right attorney can make gathering the evidence you will need much easier and guide you through the proceedings that follow.
Q: What Is the Most Common Type of Car Accident in California?
A: Car accidents can occur in various ways, but the most common type of car accident in California and throughout the United States is rear-end collision. This type of accident happens whenever a driver hits another driver from behind. This can happen due to distraction, speeding, or mechanical defects in the vehicle. In most cases, the rear driver is responsible for the resulting damages, but it is possible for a leading driver to face shared fault for a rear-end collision.
Q: How Much Is My Car Accident Claim Worth in Azusa?
A: Under California law, the driver responsible for causing your recent accident is liable for all resulting damages. You have the right to seek accountability for your vehicle repair costs, medical expenses, and lost income, along with projected future damages if you suffered severe harm from the accident. Additionally, you can also seek pain and suffering compensation. Your attorney can provide an estimate of the total potential value of your claim.
Q: Do I Need to Hire an Azusa Car Accident Attorney to Help Me Recover?
A: Technically, no, you have the ability to file your legal proceedings on your own, and there is no legal requirement for you to hire legal representation. However, hiring an attorney to represent you will significantly improve your chances of maximizing your total recovery in an efficient timeframe. An experienced attorney is also likely to uncover avenues of compensation you would have overlooked on your own, improving your total case award.
Q: How Much Will It Cost to Hire an Azusa Car Accident Attorney?
A: Amendt Law offers personal injury representation on contingency, meaning you will only pay our firm a fee if and when we win your case. Additionally, your contingency fee is a percentage of the total amount we recover on your behalf, and there is no fee if we are unable to obtain compensation for your accident for any reason. This billing policy removes the risk of paying more for legal counsel than you win in compensation for your damages.
An experienced Azusa car accident attorney can be an invaluable asset for every stage of your recovery efforts following a vehicle collision. Our firm can help you prove fault, guide you through the insurance claim filing process, and build a personal injury case on your behalf, if necessary, for your recovery. Contact us today to schedule a free consultation with an Azusa car accident attorney and learn more about how we can assist you.