Claremont car accident attorney
Car accidents happen every day throughout California for many reasons. Unfortunately, even the most experienced and cautious drivers cannot always anticipate the actions of other drivers. When a car accident happens due to the actions of another driver, they are liable for the injuries and economic losses they cause others. If you or a family member are struggling with injuries and financial losses after a car accident you believe resulted from another driver's negligence or misconduct, you have the right to hold them accountable for the damage they've done.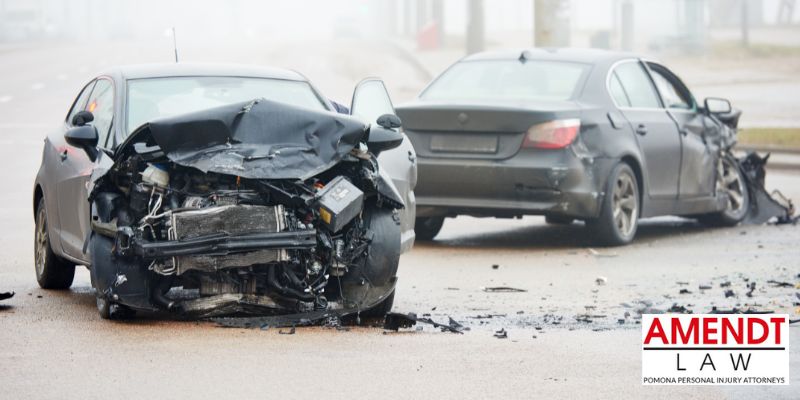 Legal Representation for Claremont Car Accident Claims
Recovery from a car accident will probably begin with an auto insurance claim, followed by a personal injury claim when insurance alone cannot compensate the victim's damages. Amendt Law is a team of experienced attorneys who have helped many clients in the Claremont area and surrounding communities with their car accident cases. If you believe you have grounds for legal recourse against another driver, we will guide you through the procedures necessary for holding them accountable.
Common Causes of Car Accident Claims in Claremont
The first step in recovering from any car accident in Claremont is determining how the accident happened. The state enforces the fault rule for car accidents, meaning that whoever is at fault for the accident is responsible for the resulting damages. In addition, all drivers must have auto insurance that includes appropriate liability coverage, but the state has the highest rate of uninsured drivers in the country. This means that filing an insurance claim may not be an option depending on who caused your accident.
A few of the most commonly cited causes of car accidents that generate complex legal proceedings include:
Distracted driving, which accounts for most of the accidents throughout the United States each year. When a driver does not give the operation of their vehicle appropriate care and attention, they endanger themselves and everyone around them. Cell phone use is the most commonly reported form of distracted driving that causes accidents throughout the country. Despite the state's ban on cell phone use behind the wheel, phone distraction continues to be the most commonly reported form of distracted driving throughout the state.
Speeding. Posted speed limits are not suggestions. While it is relatively common to see drivers exceeding speed limits slightly, speeding reduces the time and space a driver has to slow down and stop to avoid a collision. Accidents that happen at high speeds have a greater likelihood of causing severe or fatal injuries to those involved.
Moving violations. Any time a driver commits a moving violation like an illegal turn, running a red light or stop sign, or failing to navigate an intersection correctly, they put themselves and others around them at severe risk. In addition, if a moving violation is committed intentionally and causes an accident, the at-fault driver could face reckless driving charges.
Driving under the influence (DUI) of alcohol or drugs. This is illegal, and the driver responsible faces criminal charges along with liability for the damages they inflict on others. The standard penalty for a DUI conviction typically includes a fine, jail time, and driver's license suspension. However, causing a DUI accident resulting in injury could propel the charge to the felony level, and the defendant will face greatly enhanced penalties.
No matter how your recent car accident occurred, if another driver caused it, they are fully liable for any and all damages they caused you to suffer. An auto insurance claim is an important first step in recovery, but this process is more challenging than many injured drivers expect, and nothing guarantees that the insurance settlement will fully compensate their losses.
Filing Your Auto Insurance Claim in Claremont
An experienced Claremont car accident attorney is the ideal asset to have on your side when you must file an auto insurance claim after an accident someone else caused. Unfortunately, most insurance companies look for all the reasons they can find to deny claims or offer the lowest settlements possible. Some even engage in unethical tactics to do so, preying on injured claimants' desperation and lack of awareness of their rights to minimize their financial losses.
When you have an experienced Claremont car accident attorney help you with your insurance claim, you are far less likely to encounter any bad-faith tactics from the insurance carrier's representatives. Amendt Law has assisted many clients in their dealings with the biggest insurance companies in the state, and we know the tactics they often employ against unaware claimants. We will help you file your claim and address any disputes that arise with the insurance company, helping you maximize your compensation.
Building Your Injury Case in Claremont
Whether the at-fault driver does not have auto insurance or their coverage is insufficient for compensating all the losses they inflicted, your recovery may require filing a personal injury claim. This process requires identifying the party who caused your accident, proving their negligence or misconduct directly caused your claimed damages, and providing clear proof of the extent of those damages. Most of the personal injury cases filed in California pertain to acts of negligence, but it is also possible for intentional misconduct to generate a complex personal injury case.
When you choose Amendt Law to represent you in a personal injury claim, we will take the time to identify all available channels of recovery. Many of our clients are surprised to discover that they are entitled to claim far more compensation than they initially expected. We have years of experience building personal injury claims for clients in Claremont and surrounding communities, and we can potentially help you recover:
Medical expenses. A car accident may result in severe physical injuries that demand extensive medical treatment. The defendant who caused your accident is liable for any and all medical treatment costs you require for reaching maximum medical improvement from your injuries.
Lost income. A serious car accident can easily leave the victim unable to work and earn income for an extended time. The at-fault driver is responsible for the wages the victim is unable to earn during recovery. Additionally, if the victim suffered any permanent harm that resulted in a long-term or permanent disability, the defendant must pay for their lost future earning potential. An experienced Claremont car accident attorney can help their client accurately calculate the income they could have been able to make if they hadn't been injured and include this in their claim as economic damages.
Property damages. The at-fault driver's insurance may cover some vehicle repair costs, but any outstanding property loss can be listed as economic damage in the personal injury claim.
Alongside your economic losses, you also have the right to hold the defendant accountable for the pain and suffering they inflicted on you. This may sound hard to quantify in monetary value, but your legal team can provide invaluable guidance for this aspect of your recovery. In the state, most personal injury attorneys calculate pain and suffering for their clients using the multiplier method. They will multiply a client's claimed economic damages by a factor of one to five to reflect the extent of their condition. This may increase further for extreme catastrophic injuries. Alternatively, if the plaintiff will make a full recovery relatively soon, their attorney could opt for a pain and suffering settlement that gives a set amount every day until the victim reaches what is called "maximum medical improvement."
Preparing for Your Car Accident Claim Proceedings
After the plaintiff has secured as much compensation as they can through their auto insurance claim, the next phase of their recovery process will be filing a personal injury case against the at-fault driver. Your attorney can provide invaluable guidance for the early stages of your case, helping you gather the evidence needed to substantiate your initial complaint. The police report from the accident, a medical report of your injuries from your doctor, and eyewitness statements from those who saw your accident occur are all likely to be foundational pieces of evidence crucial to your claim.
Amendt Law strives to settle our clients' cases as swiftly as possible, but we will not give ground on our clients' compensation for the sake of expediency. If necessary, we will represent you through litigation to secure appropriate compensation for the damages the defendant inflicted on you. In addition, if any accusations of comparative fault arise in your case, we will assist you in countering these claims to preserve your right to recover full compensation.
Ultimately, no single solution works for every car accident case. We develop individualized case strategies for each client we represent, taking time to listen to the client's story and providing truly personalized advice throughout every stage of their case. Amendt Law has the skill and experience you need on your side to approach your recovery efforts with confidence.
FAQs About Claremont, CA Car Accident Laws
How Much Does It Cost to Hire a Claremont Car Accident Lawyer?
It's natural to worry about the cost of legal counsel when you need to hire a Claremont car accident attorney. Amendt Law accepts clients on a contingency basis, so you only pay a fee once we win your case. Your contingency fee is a portion of your final award, so you do not need to worry about your legal expenses overshadowing your total compensation. If we cannot secure compensation on your behalf, there will be no fee at all.
Is It Worth Filing a Personal Injury Claim for a Car Accident in Claremont?
While it may be possible to resolve a minor car accident through an insurance claim alone, nothing guarantees that the defendant who hit you has appropriate insurance coverage to fully compensate your losses. The state also has a very high rate of uninsured drivers, so they may not have insurance at all. If your damages exceed the at-fault driver's insurance coverage, or if they do not have insurance, a personal injury claim is your only option for holding them accountable for the damages they inflicted on you.
How Long Will It Take to Settle a Car Accident Case?
As long as both parties involved in your case are willing to negotiate, settlement may only take a few weeks. An experienced Claremont car accident attorney can help their client secure a swift resolution to their car accident claim, and they will also be an invaluable asset if the client is forced to resolve their case through litigation. However, if you must take a car accident case to trial, this will take much longer than settlement, often several months or more.
How Much Is My Car Accident Claim Worth?
Under state law, you have the right to seek full repayment of the economic losses you suffered because of the defendant's actions. Additionally, you have the right to seek compensation for your pain and suffering that reflects the extent of your losses and the scope of long-term damage you face. Therefore, for an accurate estimate of your car accident claim's total potential value, it is important that you speak with an experienced Claremont car accident attorney as soon as possible.
What Happens If I'm Partly at Fault for My Accident?
California enforces the pure comparative negligence rule, which applies to any case in which the plaintiff is partially responsible for causing their claimed damages. The judge ruling on your case will assign you a fault percentage based on your level of liability. This percentage is then subtracted from your final award. For example, bearing 10% fault in a $300,000 case would mean losing $30,000 of the case award.
Amendt Law understands the stress, anxiety, and frustration that can follow a car accident caused by someone else. Our team has years of experience handling a wide range of auto accident claims on behalf of clients in Claremont and surrounding areas, and we are ready to put this experience to work in your case. If you wish to learn what an experienced Claremont car accident attorney can offer in your recovery efforts, contact us today to schedule your free consultation with our team.