Diamond Bar Car Accident Attorney
Car accidents can happen in many ways, and these incidents are a leading cause of accidental injuries and deaths throughout California each year. Whenever one driver harms another through any type of misconduct or negligence behind the wheel, the injured driver has the right to pursue compensation for the losses they suffered. Proving fault is an essential step in recovering from an accident, but the reality is that proving fault and establishing the full extent of your claimable losses can be more challenging than you may initially expect.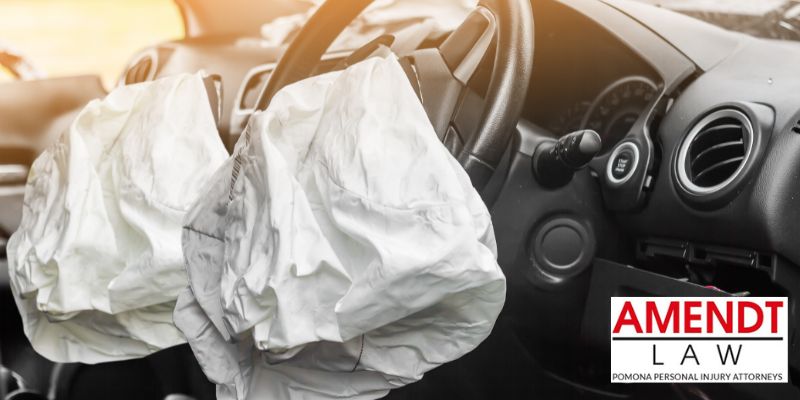 Legal Representation for Car Accident Victims in Diamond Bar, CA
The right attorney is an invaluable asset after a car accident in Diamond Bar. The team at Amendt Law has years of professional experience helping our clients recover from all types of vehicle accidents and other personal injuries, and we are ready to leverage this experience for you in your recovery efforts. While you are under no legal obligations to hire an attorney to help you recover from your recent accident, investing in legal counsel that you trust can pay off tremendously when it comes to the ease with which you will be able to navigate your case and the quality of the final recovery you reach with their assistance.
How to Prove Fault for Your Recent Car Accident in Diamond Bar
Fault is easier to prove for some accidents than others. If you were severely injured in an accident, you may have little to no recollection of how the accident happened, and it is also possible for a driver to cause a collision and then flee the scene, leaving the victim to wonder how they can ensure accountability for the incident.
Regardless of the type of car accident you experience, the first steps you take in the aftermath will profoundly affect your recovery efforts. Your first priority should be to identify the driver who caused your accident. If you do not recall the details of how the accident happened or if the at-fault driver fled the scene, a Diamond Bar car accident attorney can help identify them. A few of the most common causes of car accidents that lead to complex civil cases are:
Distracted driving, a leading cause of vehicle accidents throughout the United States each year.
Speeding, which is a major contributing factor to the number of fatal accidents in the state. Speeding increases the likelihood of a crash as well as the severity of any resulting damages.
Moving violations, including illegal turns and running stop signs or red lights. These actions startle others and can easily cause devastating accidents.
Driving under the influence (DUI) of alcohol or drugs. This is a criminal offense punishable by fines, jail time, and driver's license suspension, and penalties are almost certain to increase when the defendant has injured or killed someone.
These are just a few possible ways for car accidents to happen. Your Diamond Bar car accident attorney can help gather any evidence you will need to firmly establish fault and then guide you through the process of recovering your damages.
Recovery From Your Car Accident in Diamond Bar
Every driver in the state is required to carry auto insurance, and filing an automobile insurance claim against an at-fault driver is usually your first step in the recovery process following a car accident in Diamond Bar. After identifying the at-fault driver and proving they are directly responsible for the accident, your attorney can help claim against their auto insurance. You are less likely to experience any unfair treatment from the insurance carrier when they see that you have legal counsel advising you.
After you recover as much compensation as possible through your insurance claim, any remaining damages can be recovered through a personal injury claim. Success with a personal injury case requires accurate identification of the party or parties responsible for causing your damages, and then you must prove the full extent of those damages. Under state law, a personal injury plaintiff has the right to seek compensation for:
All medical treatment costs resulting from the accident. The defendant who injured you is liable for the full extent of medical treatment you require to fully heal from your injuries. This includes future treatment when you require any ongoing rehabilitative care.
Lost income and lost earning potential. If you have been left unable to earn income due to the severity of your injuries, the defendant is liable for the wages you are unable to earn. If your injuries prevent you from working in the future, they are also responsible for your lost future income. Your Diamond Bar car accident attorney can help accurately calculate the future income you are no longer able to earn and add it to your claim.
Property damage. If you cannot recover all your vehicle repair costs and other property damage through insurance, the remainder qualifies as economic damages in your personal injury claim.
Pain and suffering. You have the right to hold the defendant accountable for the intangible losses they inflicted. An experienced Diamond Bar car accident attorney can help maximize the compensation you obtain for the physical pain, psychological trauma, and emotional distress you suffered from the accident, and California law does not limit how much you can claim for a car accident.
Your case could be worth much more than you may expect, and a Diamond Bar car accident attorney is the optimal asset you can have on your side for maximizing your recovery. When you choose Amendt Law to represent your car accident case, we can immediately get to work gathering the evidence you need to prove fault and show the full extent of your damages. Our goal in every car accident case we accept is maximum client recovery, and reaching out to our team as soon as possible means we have more time to build a compelling case for you.
Car Accident Lawyer FAQs
Q: How Much Compensation Can I Claim for a Car Accident in Diamond Bar?
A: State law dictates that the driver who caused your recent accident is liable for all damages they inflicted, but it can be difficult to accurately calculate the full extent of damages you are legally entitled to claim. Your Diamond Bar car accident attorney can help assess the extent of financial losses you suffered, including your property damage, medical expenses, and lost income. They can also assist you in determining appropriate pain and suffering compensation to seek from the at-fault driver. The total value of your case hinges on the extent of the losses you suffered.
Q: Do I Need to Hire an Attorney to File a Car Insurance Claim?
A: Technically, no, you have the ability to file a car insurance claim on your own behalf, but having an attorney help you can significantly reduce the chance of encountering bad-faith treatment from the insurer and increase the chance of maximizing your settlement. Your Diamond Bar car accident attorney can help file your claim to the insurer, and they can verify that the insurance company has handled your claim in good faith.
Q: How Long Do I Have to File a Personal Injury Claim for a Car Accident in Diamond Bar?
A: There is a two-year statute of limitations on personal injury claims in the state, and this time limit starts on the date an injury occurred. However, your recovery from a car accident is likely to start with a claim against the at-fault driver's insurance, and you face a much shorter deadline in which to file this claim. It is advisable to seek out an experienced Diamond Bar car accident lawyer as soon as possible after your accident to have the greatest chance of success with all the recovery efforts you attempt after your accident.
Q: What Happens if I Partially Caused My Car Accident?
A: It is possible for you to bear partial responsibility for your recent accident and still recover compensation for your damages under the state's pure comparative fault rule. Whenever a plaintiff shares liability for the damages, they lose a percentage of their case award to reflect their level of fault for causing the accident. Your Diamond Bar car accident attorney can help determine what level of fault you may hold, and they can explain how this could impact your recovery.
Q: How Much Does It Cost to Hire a Diamond Bar Car Accident Attorney?
A: Amendt Law can provide the legal counsel you need for a car accident case without adding to your financial concerns with overly expensive hourly billing. We take personal injury clients on a contingency fee basis, meaning our client only pays attorneys' fees if and when we win their case. We take a percentage of your final case award as our fee, but if we are unable to secure compensation for you, there is no fee at all.
The attorneys at Amendt Law have years of experience handling all types of personal injury cases in Diamond Bar, including those arising from car accidents. We know how to deal with insurance claim adjusters and how to help maximize your recovery when another driver is liable for your damages. The sooner you reach out to our team, the more quickly you can recover your damages, so contact Amendt Law today to schedule a free consultation with a Diamond Bar car accident attorney to find out how our team can assist you.