San Dimas Car Accident Attorney
Car accidents are one of the most commonly reported causes of accidental injuries and deaths in San Dimas and throughout California. Whenever a car accident happens, the victims involved are likely to have many pressing questions about liability for the incident and how they can recover their damages. If you find yourself in this situation, it is important to know what you can do to secure compensation for the damages in the shortest timeframe.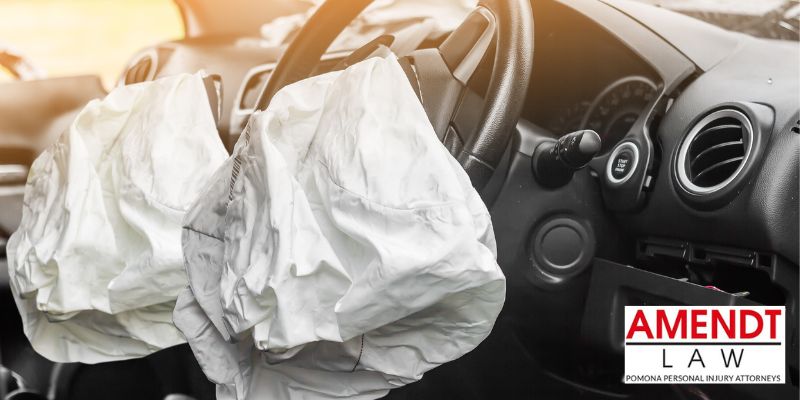 Legal Counsel for Car Accident Claims in San Dimas, CA
Recovery from any accident in San Dimas is likely to begin with an auto insurance claim against the at-fault driver. However, there is no guarantee that insurance alone will cover your damages or that you will have an easy time dealing with insurance company representatives. If you cannot fully recover from a car accident through insurance alone, you will need to file a personal injury suit against the driver who caused your accident.
Amendt Law can provide the comprehensive legal counsel you need to resolve your car accident claim in San Dimas. Throughout the years of our firm's operation, we have helped many car accident victims ensure accountability for the harm done by others and navigate the complex legal issues that their cases often present. Whatever your claim entails, you can trust our firm to provide ongoing support through all your proceedings until you secure full compensation for the damages.
How to Prove Fault for a Car Accident
The state functions on the fault rule for car accidents, meaning it is essential to prove fault for a car accident before you can recover any compensation for your losses. Your San Dimas car accident attorney can assist you in building your case, gathering various forms of evidence that can help identify the party responsible for the accident and prove that they are directly responsible for the damages. A few of the most commonly reported causes of car accidents that generate civil suits in San Dimas include:
Distracted driving, which is one of the most commonly reported causes of car accidents throughout the country each year. The state has banned the use of cell phones while driving but texting behind the wheel continues to be one of the most prolific forms of distracted driving responsible for serious accidents.
Moving violations. When a driver fails to abide by traffic signs or signals or intentionally violates the flow of traffic, they can easily cause a serious accident, especially in a busy metropolitan area. Failure to yield the right-of-way, performing an illegal turn, or failing to stop for a stop sign or red light are all commonly reported causes of accidents in San Dimas.
Speeding, which not only increases the chances of an accident happening but also the severity of the resulting damages. Accidents that occur at higher speeds are more likely to cause catastrophic or fatal injuries to those involved.
Driving under the influence (DUI) of alcohol or drugs. This is a crime punishable by fines, incarceration, and driver's license suspension. These penalties increase automatically when a DUI driver causes an accident and injures another person.
Your San Dimas car accident attorney can help gather evidence like the other driver's cell phone records, the police report from the accident, traffic camera footage, and statements from witnesses who saw the accident happen firsthand. Once you have identified the driver responsible for the accident, you can proceed with your recovery efforts, seeking compensation for the harm they've done.
Recovering From Your Car Accident in San Dimas
Every driver in the state is legally required to have auto insurance, and filing a claim against an at-fault driver's policy is usually the first step toward recovering from any car accident in San Dimas. Your attorney can make this process much easier, filing a demand letter on your behalf and resolving any disputes with the insurance company. After securing as much compensation as possible from auto insurance, or if the defendant does not have insurance, you can proceed with filing a personal injury claim.
The objective of any personal injury suit is for the plaintiff to prove fault for their claimed damages and hold the at-fault party accountable for the harm they have caused. Under the state's personal injury statutes, the plaintiff has the right to claim compensation for:
Vehicle repair costs and other property damages caused by the defendant.
Medical expenses, including both immediate and future treatment costs, if they suffered any serious injuries that require ongoing care.
Lost income. If an accident leaves a victim unable to work and earn income, they can claim compensation for the wages they are unable to earn due to the defendant's actions.
Pain and suffering. California law allows the plaintiff in a personal injury claim to seek recompense for physical pain, emotional distress, and psychological trauma resulting from a defendant's actions. There is no limit to this facet of your recovery in a car accident case, and an experienced San Dimas car accident attorney can help determine a suitable amount to reflect the overall severity of your experience.
Other variables have the potential to influence your final case award as well. For example, if the defendant caused the accident through any illegal action, such as DUI or intentionally aggressive driving, they could face restitution as part of a criminal sentence, or the judge handling your civil claim may award you punitive damages. Conversely, if you share fault for the accident, it will diminish your total case award under the state pure comparative fault rule.
When you choose Amendt Law to represent you in a car accident claim in San Dimas, our goal is to help you recover as fully as state law allows. You can trust our team to help prove fault and then guide you through the insurance claim process. We have confronted all the major insurance carriers on behalf of our clients and are familiar with the tactics they often use to try to avoid liability for injured drivers' claims. If insurance alone cannot compensate your damages, you can trust our firm to build a comprehensive personal injury claim on your behalf that aims for maximum compensation for your losses. The sooner you reach out to our firm, the sooner we can begin guiding you toward the recovery you legally deserve.
FAQs
Q: Is California a No-Fault State for Car Accidents?
A: No, it upholds the fault rule. This means that whoever caused a car accident is responsible for the resulting damages. You must prove fault before filing an auto insurance claim and/or a personal injury suit against the at-fault driver. After a serious accident, it's likely that you will need to file an auto insurance claim followed by a personal injury suit that seeks compensation for the damages that insurance can't cover.
Q: What Happens if an At-Fault Driver Does Not Have Auto Insurance?
A: State law requires all drivers to have personal auto insurance, but the state has one of the highest rates of uninsured drivers in the country. If you have purchased uninsured motorist coverage with your auto insurance policy, you can claim against your own insurance if an at-fault driver does not have insurance; otherwise, you will need to file a personal injury claim against them to recover your damages.
Q: Can Multiple Drivers Share Fault for an Accident?
A: Yes, it is possible for more than one driver to bear liability for an accident. If multiple drivers share liability for an accident, a judge will assign a percentage of total fault to each liable party, reflecting their respective levels of liability for the accident. If a plaintiff in a car accident suit shares fault, their percentage of fault is deducted from their case award, and they keep the remainder.
Q: Do I Need to Hire a San Dimas Car Accident Attorney?
A: You are not legally required to hire an attorney for a car accident claim in San Dimas, but you are far more likely to maximize your recovery and resolve the case in a shorter time when you have legal counsel on your side. Your attorney can make every aspect of your case easier to manage and more likely to generate the results you hope to see.
Q: How Much Does It Cost to Hire a San Dimas Car Accident Attorney?
A: If you choose Amendt Law to handle your case, you will only part with a percentage of your final case award as our firm's fee. This contingency fee billing system ensures you can have the legal counsel you need without paying more in legal fees than you win in compensation from the defendant. If our team cannot secure compensation for your car accident for any reason, you pay nothing in legal fees.
Any car accident can potentially cause life-changing injuries and a host of economic problems for the victim and their family. If another driver caused your recent accident, you have the right to seek accountability and compensation for the damage they've done. Amendt Law is ready to provide the compassionate and responsive legal representation you need for your impending case, so contact us today and schedule a free consultation with a San Dimas car accident attorney you can trust.