Upland Car Accident Attorney
Car crashes are common reasons for accidental injuries and deaths in the country each year; additionally, they happen in a multitude of ways. Each state has different rules for resolving car accidents and compensating victims, and California enforces the fault standard. This means that whoever caused a car crash absorbs the liability for all damages that result from the accident. If you suffered injuries due to another driver's negligence or misconduct while driving, you could seek accountability and claim compensation.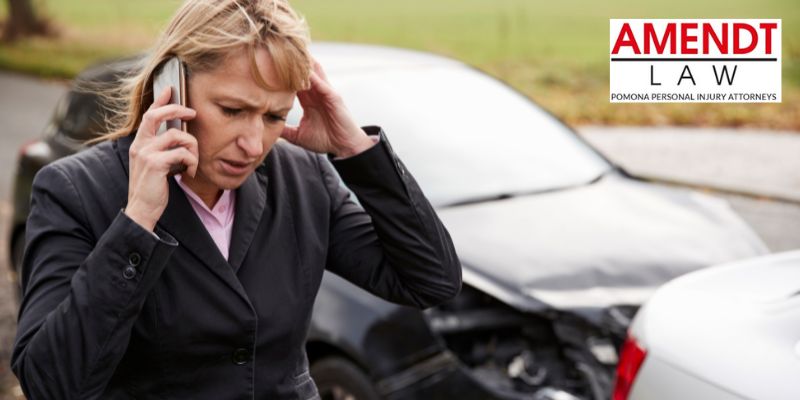 Experienced Legal Counsel for Car Accident Victims in Upland
Amendt Law has a team of experienced attorneys ready to provide the comprehensive legal representation you need in this challenging situation. Our firm has a strong record of successful personal injury claims in the Upland area, including those arising from motor vehicle crashes. Our focus in every case we accept is our client's recovery. If you need trustworthy legal counsel because of a vehicle accident in Upland, CA, we are ready to guide you through all the complex proceedings your recovery will entail.
Common Reasons for Car Accidents in Upland
Before you can recover compensation for a recent accident, you must prove how it occurred and ID the driver or drivers responsible for it. Most car accidents are the result of negligence or carelessness, but it is also possible for intentional misconduct to result in a serious accident. A few common causes of car accidents that lead to civil claims in Upland include:
Distracted driving. Whenever a driver isn't paying full attention to driving, they significantly increase their risk of causing an accident. Your Upland car accident attorney can assist you in proving who was at fault in your distracted driving accident with digital evidence like cell phone records and traffic camera recordings.
This increases the likelihood of a crash and the serious nature of any damages. Accidents that occur at high speed have the greatest chance of resulting in severe or fatal injuries. Excessive speeding can potentially result in a reckless driving charge for the at-fault driver, especially if they cause an accident.
Driving under the influence (DUI). Operating a vehicle while intoxicated by drugs or alcohol is extremely dangerous and against the law. Penalties for DUI conviction can include fines, jail time, and driver's license suspension. The defendant's penalties will automatically increase when they have caused harm to another driver while operating their vehicle under the influence.
Traffic violations. Failing to yield the right-of-way, running a red light or a stop sign, and performing turns illegally and lane changes are just some of the types of moving violations that can cause serious accidents.
An injured driver needs to prove how their accident happened before they can recover compensation. Your Upland car accident attorney can assist you with this aspect of your case by gathering physical evidence and testimony from witnesses on the scene when the accident happened.
After you prove who was at fault for the car accident, you can then seek compensation from the at-fault driver, but you must prove your damages directly resulted from their actions. The recovery process will begin with an auto insurance claim, as the state requires all drivers to have auto insurance coverage. However, if insurance isn't available or if the at-fault driver's policy cannot compensate the full amount of the victim's damages, a personal injury claim will be necessary for the victim to fully recover.
Claiming Compensation for Your Upland Car Accident
Your Upland car accident attorney can assist you with the insurance claim filing process. They can review the at-fault driver's policy, help you file your demand letter to their insurer, and resolve any disputes that arise regarding your claim. Once you have resolved this insurance claim process, you can go ahead with your personal injury suit against the at-fault driver.
An experienced attorney is a crucial resource when you need to file any type of civil claim for damages. Your attorney can ensure that you meet all procedural deadlines with the court and uncover every avenue of compensation that's available to you. When you succeed with a personal injury case for a vehicle accident in Upland, you can potentially recover various types of compensation, including:
Medical expenses. The person who injured you is liable for the cost of all the medical care necessary for you to recover fully. This includes both immediate and long-term healthcare expenses if you need extensive ongoing treatment to reach full recovery.
Lost income. If you cannot work after your accident, the defendant will be responsible for your lost wages. Your Upland car accident attorney can assist you in calculating the full amount of lost income, including lost future earnings if you are left unable to return to your job due to the serious nature of your injuries.
Property losses. The at-fault driver's insurance may not fully cover the costs to repair the vehicle repair or replace it. Any remainder of your property losses can be cited as economic damages in your personal injury claim.
Pain and suffering. California law allows a plaintiff to seek compensation for physical pain and psychological suffering inflicted by a defendant's actions. There are no limits on this aspect of recovery, and your Upland car accident attorney can assist you in determining a suitable amount to reflect the serious nature of your experience.
Ultimately, you could have grounds to claim more compensation than you initially anticipated, and having the correct attorney handle your case is the ideal way to maximize your final award. When you select Amendt Law as your legal representative, you are investing in more than 25 years of professional legal experience. We know how to streamline your recovery process and help you secure the recompense you are legally owed for your car accident. Our goal is to help settle your case quickly for the maximum compensation possible under state law, but we are fully prepared to represent you in litigation if necessary.
FAQs About Upland, CA Car Accident Laws
Can I Still File a Claim if I Partially Caused My Car Accident in Upland?
If you share fault for your recent car accident, this may inhibit you from filing an auto insurance claim against the at-fault driver or reduce the amount of compensation the insurance company is willing to pay for your damages, but partial fault does not prevent you from filing a personal injury claim. Under the state's pure comparative negligence law, a plaintiff partially at fault for their own damages will lose part of their award, reflecting the liability they share.
Why Should You Hire an Upland Car Accident Attorney?
It may be technically possible to handle your recovery on your own, but you have a much better chance of maximizing your total compensation with trustworthy legal counsel advising you. Your attorney can handle your legal affairs on your behalf while you focus on your medical needs, from filing your insurance claim for you to helping you build your personal injury claim against the at-fault driver.
What Kind of Compensation Can I Claim After a Vehicle Accident in Upland?
Under California law, the driver responsible for an accident is fully liable for all associated economic damages. The injured driver can claim compensation for vehicle repair costs, medical expenses, and lost income resulting from the accident. They can also claim recompense for their pain and suffering. Your Upland car accident attorney can assist you in recovering as much as possible through the insurance claim process, and any remainder can be claimed in your personal injury action.
What Happens if a Vehicle Accident Is Fatal?
Unfortunately, some car accidents result in death, and if you lost someone you love in an accident someone else caused, you likely have grounds to file a wrongful death suit. This functionally replaces the personal injury claim the victim could have filed if they had survived. State law dictates the damages available and other procedural rules for this type of claim. You need trustworthy legal counsel on your side to succeed with your wrongful death suit in Upland.
What Will It Cost to Hire an Upland Car Accident Attorney?
The majority of personal injury attorneys accept cases on a contingency fee basis. This means that instead of paying upfront and ongoing legal fees, an injured plaintiff only pays part of their final award to their attorney at the end of their case. Additionally, they are only required to pay this fee if they win, and the client pays nothing if their attorney cannot win compensation on their behalf.
Amendt Law aims to help every client maximize their recovery to the fullest extent possible under state law. Any car accident has the potential to cause life-changing damages and impose many difficult problems for those involved. The correct attorney on your side can assist you in approaching the situation with clarity and confidence while increasing your chances of maximizing your final award. If you are ready to uncover all your avenues of legal recourse after another party has injured you in an accident, contact Amendt Law today to schedule your free consultation with an Upland car accident attorney.