Los Angeles Bicycle Accident Attorney
Bicycling is popular in Los Angeles and throughout California for many reasons. Some people simply ride for fun or for exercise, while thousands of people in the Los Angeles metropolitan area use their bikes as easy and environmentally friendly local transportation. Whatever your reasons may be for riding your bike in Los Angeles, it is vital to acknowledge the risks you face every time you ride near motor vehicle traffic, and you must know what to do to recover from a bike accident that another party has caused.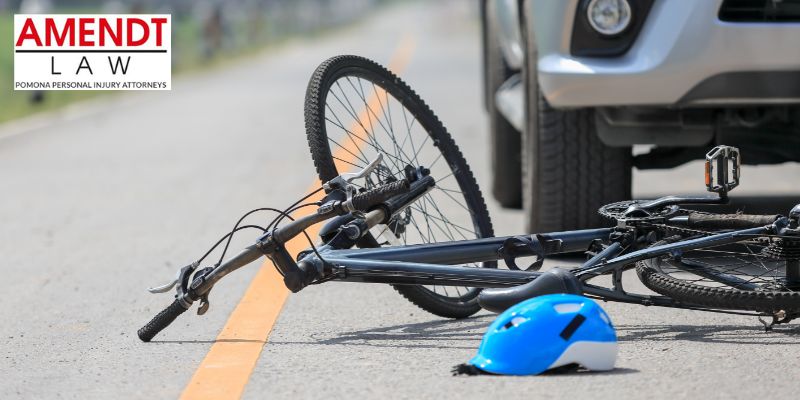 Experienced Legal Representation for Bicycle Accident Victims in Los Angeles, CA
Whenever a motor vehicle driver hits a bicyclist, they can easily cause tremendous harm, even if the collision occurs at low speed. Bicyclists face the risk of injury from the initial impact of the driver hitting them as well as the secondary impact of hitting the ground. If you or a loved one recently suffered injuries in a bicycle accident that someone else caused, it is vital to know your rights when it comes to recovering compensation for your damages.
Amendt Law provides compassionate and comprehensive personal injury representation in Los Angeles, and our firm routinely helps injured victims secure compensation for the damages that others have inflicted. Whether your bicycle accident happened because of a driver's negligence or their intentional misconduct behind the wheel, we can help you hold them accountable and recover compensation for the damages you suffered.
How to Prove Fault for a Bicycle Accident in Los Angeles
California upholds a fault rule that applies to all vehicle accidents, including bicycle accidents. This means that whoever caused your recent accident is liable for the resulting damages, and proving fault will be an essential first step in your recovery efforts. You must identify the party responsible for causing your accident and then prove the full extent of the damages they inflicted before you can recover any compensation for your losses.
Bicycle accidents can happen in many of the same ways that standard motor vehicle accidents happen. Most of these incidents are the result of negligence, or failure to use reasonable care in specific situations. Distracted driving and moving violations are the most common examples of negligence that can easily cause bicycle accidents. It is also possible for a driver to cause a serious bicycle accident through some intentional misconduct, such as driving under the influence (DUI) of alcohol or drugs or reckless driving.
If your bicycle accident happened because of negligence, your Los Angeles bicycle accident attorney can assist you with gathering the evidence you are likely going to need to prove fault. This may include traffic camera recordings, digital records from the other driver's vehicle computer, their cell phone records, and statements from witnesses who saw the accident happen firsthand. If you were hurt as a result of a driver's intentional misconduct behind the wheel, they are likely to face criminal prosecution from the state. Your Los Angeles bicycle accident attorney can help you understand how their criminal charges may influence your recovery efforts.
Recovering Through Auto Insurance
Every driver in the state is legally obligated to have auto insurance that includes coverage for bodily injury liability and property damage liability. When an accident happens, the at-fault driver's insurance will pay for the victim's damages. Filing an insurance claim is generally the first option you have for recovering from an accident that someone else caused, but there is no guarantee that insurance alone will cover your damages or that an at-fault driver will have insurance at all.
Your attorney can help you file an insurance claim after a bicycle accident, just as you would if you had been hurt while driving a motor vehicle. Once you prove liability for the accident, you submit a claim to the at-fault driver's insurance carrier, explaining that their policyholder is at fault for your damages and proving the full extent of the losses they caused. The insurance company will review the claim and send you a claim determination, and your Los Angeles bicycle accident attorney can be invaluable for their help in ensuring the insurance carrier handles your claim in good faith.
Filing Your Personal Injury Suit for a Bicycle Accident in Los Angeles
Insurance may cover the damages from a minor accident, but many bicycle accidents in Los Angeles result in devastating injuries and subsequent economic damages that insurance alone won't cover. Whether you have exhausted available insurance coverage and have outstanding damages, or an at-fault driver does not have insurance at all, the next step of your recovery process will be to file a personal injury claim against the defendant who caused your accident.
The goal of a personal injury claim is to ensure accountability for the defendant and compensation for the plaintiff's damages. Once you have proven fault, you must then proceed with proving the full extent of the damages the defendant inflicted with their negligence or misconduct. These damages may include:
Property losses, such as the cost of repairing or replacing your bike and other belongings lost in the accident.
Medical expenses, including all immediate and future medical treatment costs that their insurance won't cover. Many bicycle accidents result in multiple injuries, leaving victims to face painful and extensive recovery. Your attorney can help recover full compensation for immediate and future medical treatment costs arising from the accident.
Lost income. If you are unable to work after your bicycle accident, The defendant is responsible for replacing the income you cannot earn while you recover. Additionally, if your accident resulted in any type of permanent disability and you are unable to return to work at all, they could be liable for your lost future earnings as well.
Pain and suffering. California law allows the victim of a personal injury to seek compensation for the physical pain, emotional distress, and psychological trauma they experienced because of the defendant's actions. There is no limit to how much pain and suffering compensation you may claim for most personal injuries, and your attorney can help determine a suitable amount to reflect the severity of your experience.
Ultimately, with the right attorney handling your case, you could recover much more than you may expect. The average person is usually able to calculate immediately noticeable losses like their hospital bills and property damage, but they are likely to struggle when it comes to the accurate assessment of long-term damages like future medical expenses and lost earning potential.
When it comes to your pain and suffering compensation, most are likely to struggle with determining the appropriate financial value of intangible losses like physical pain and trauma. Your Los Angeles bicycle accident attorney can carefully review the full extent of your injuries and the long-term implications they have to help determine appropriate pain and suffering compensation to seek from the defendant. They may seek an amount that reflects the overall severity of your condition or the time it will take for you to reach maximum medical improvement from your injuries.
What to Expect From Your Los Angeles Bicycle Accident Attorney
Many people who need legal counsel for their personal injury claims in Los Angeles wonder whether it is worth investing in hiring legal representation. They often assume that it would cost more to hire a lawyer than they could win from their cases. However, this is a misconception, and legal representation could be more accessible than you might think. When you work with an attorney on a contingency fee basis, they only collect a fee from you after they win your case, and their fee is a percentage of the total amount they recover for you. With this billing arrangement, the attorney has a clear incentive to seek as much compensation as possible for your damages, and there is no financial risk to you in hiring them for your case.
When you choose Amendt Law to represent your bicycle accident claim in Los Angeles, you will have instant access to a dedicated legal representative who can answer your questions and address any worries you may have as your case unfolds. In every case we accept, we take time to help our clients understand the full extent of the legal options available to them and prepare them for each new phase of their case.
There is no law requiring that you hire an attorney for a bicycle accident claim or any other type of personal injury case. However, choosing the right attorney to handle your claim will significantly improve your chances of not only winning your case but also of maximizing your total recovery. Amendt Law has extensive experience helping injured clients in Los Angeles with all types of accident claims, including bicycle accident cases. The sooner you reach out to our firm, the more time we have to develop your case, and the more likely you are to receive maximum compensation for your damages.
Bike Accident Lawyer FAQs
Q: Can a Bicyclist Be at Fault for an Accident in Los Angeles?
A: In most accidents involving a motor vehicle and a bicycle, the motor vehicle driver is almost always at fault for the resulting damages. However, it is possible for a bicyclist to share fault if they were negligent in any way that contributed to causing the accident. The state uses a pure comparative fault rule, meaning it is possible for a plaintiff in a civil suit to share fault and still recover damages. However, they lose a percentage of their case award to reflect their shared liability.
Q: What Are the Most Common Injuries From Bicycle Accidents?
A: Whenever a motor vehicle driver hits a bicyclist, the victim has a high chance of suffering multiple severe injuries. A few of the most commonly reported injuries from bicycle accidents in Los Angeles include broken bones, spinal cord injury, traumatic brain damage, dental and facial injuries, and injuries to internal organs. The defendant responsible for causing the accident is liable for any medical treatment costs the victim incurs.
Q: How Much Compensation Can I Receive for a Bicycle Accident in Los Angeles?
A: Under California's personal injury laws, the party responsible for causing your injury is liable for the full spectrum of financial losses you suffered because of their actions. The total value of a personal injury case is likely to include medical treatment costs, lost income, lost future earnings, property damage, and compensation for the victim's pain and suffering. If you want to maximize your final case award, it is essential to work with a seasoned Los Angeles bicycle accident attorney.
Q: Will I Need to Take My Bicycle Accident Claim to Court?
A: Recovery from your recent bicycle accident is likely to require an automobile insurance claim followed by a personal injury claim, the latter seeking compensation that the former cannot provide. Most of the personal injury claims filed each year do not go to trial; it behooves all parties involved to settle the case privately outside of court. As long as the defendant admits fault and both parties are willing to compromise, it is possible to settle the case in a fraction of the time that litigation would require. However, if the defendant denies liability or disputes the damages sought by the plaintiff, the case may need to be resolved through litigation.
Q: What Does It Cost to Hire a Los Angeles Bicycle Accident Attorney?
A: Many people who need legal counsel assume that hiring representation would cost more than they could win in compensation for their damages. However, the team at Amendt Law can represent your case on contingency, meaning you only pay our fee if we win your case, and the fee is a percentage of the total amount we recover. Our fee is contingent upon our ability to secure a case award for you, and you owe nothing if we are unable to obtain recovery in your case.
The attorneys at Amendt Law have successfully represented many bicycle accident claims for clients in Los Angeles, and we know how damaging these incidents can be. Whether you need legal assistance for your own case or are looking for representation on behalf of an injured family member, our firm has the professional experience you want on your side as you seek compensation for the losses you suffered. Contact Amendt Law today and make an appointment for a free consultation with a Los Angeles bicycle accident attorney you trust with your case.