Los Angeles Car Accident Attorney
Every day, many car accidents occur in the Los Angeles, CA, area for many reasons. Los Angeles is one of the largest and busiest metropolitan areas in the country, and the state of California has one of the highest vehicle accident rates in the nation. Any car accident has the potential to be a life-changing event for those involved. Unfortunately, many people struggle to determine the best way to recover the losses they suffer in these incidents.
If you or a family member were recently hurt in a car accident that someone else caused, Amendt Law can help you ensure accountability for the at-fault driver. Our firm is a team of experienced Los Angeles personal injury attorneys that have extensive experience helping our clients through a wide range of complex car accident cases. We are often able to recover far more compensation for our clients than they expect. When you are unsure how to prove fault for a recent car accident, how much compensation you are legally allowed to claim, or how to hold an at-fault driver responsible for the damage they have done, we can help.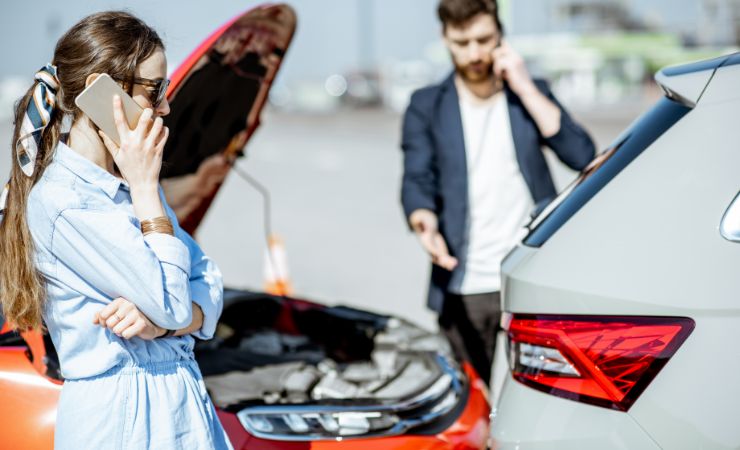 Benefits of Working With an Experienced Los Angeles Car Accident Attorney
Do not make the mistake of thinking that you can easily resolve a complex car accident claim on your own, especially if you were severely injured in any way. The average person may be able to identify their immediately recognizable damages, like vehicle repair costs and their medical expenses for treatment of their injuries, but calculating their long-term damages is likely to be far more challenging. Additionally, dealing with insurance carriers can be incredibly difficult for many reasons.
While it may be technically possible to pursue compensation for your damages alone, this would likely be a much greater challenge than you might expect. It is natural to worry about the cost of legal counsel. Many people injured in Los Angeles mistakenly believe that legal representation would be prohibitively expensive or that the cost of hiring their attorney would overshadow the total value of their claim. The reality is that you could be legally entitled to claim a far greater amount of compensation than you expect. Hiring the right attorney can unlock the full potential of all the recovery options you choose to pursue.
Amendt Law takes time to assess each of our clients' individual needs. There is no single legal strategy that works for every plaintiff, and any car accident has the potential to generate a series of complex legal issues that impede the victim's recovery. We develop uniquely crafted civil claims on behalf of our clients, seeking the greatest amount of compensation available in the shortest time possible. When you choose our firm to represent you in your recovery efforts after a car accident, we can guide you through the process of proving fault for the incident. We can help you file your auto insurance claim against the at-fault driver and build a personal injury case if necessary to ensure your complete recovery.
Common Causes of Car Accidents and Proving Liability in Los Angeles, CA
The first step in recovering from a car accident in Los Angeles is proving how it happened and identifying the driver who caused it. California upholds the "fault rule" for car accident claims, meaning that whichever driver caused your accident is responsible for the resulting damages. Some of the most commonly reported causes of motor vehicle accidents in the Los Angeles area include:
Speeding. Any time a driver exceeds the speed limit, they significantly increase the chances of causing a serious accident. Speeding also increases the likelihood of an accident causing catastrophic or fatal injuries. Excessive speeding can lead to criminal prosecution for reckless driving in some cases.
Distraction. Across the US, distracted driving is the most frequently cited cause of all vehicle accidents each year. Even a few seconds of inattention behind the wheel can cause a serious accident. An injured driver will likely require an attorney's assistance to gather the evidence needed to prove fault for the accident. Traffic camera recordings and cell phone records are often crucial pieces of evidence in these cases.
Moving violations. Whenever a driver fails to navigate an intersection correctly, makes an illegal turn, or fails to stop for a stop sign or red light, they endanger themselves and other drivers nearby.
Driving under the influence (DUI). Any driver who operates a vehicle under the influence of drugs or alcohol faces criminal charges. The penalties for DUI in California will usually include a fine, jail time, probation, and the loss of driving privileges. These penalties increase with multiple offenses or when a driver causes a serious accident due to intoxication behind the wheel.
An experienced Los Angeles car accident attorney can help their client secure physical evidence, digital evidence, and witness testimony to help them prove exactly how their recent accident occurred. Most car accidents happen because of negligence, but when they occur because of illegal and/or intentional misconduct, those responsible can face criminal charges along with civil claims from those they injure.
Filing Your Auto Insurance Claim After a Car Accident in Los Angeles, CA
California law requires all drivers to have appropriate auto insurance coverage that provides bodily injury liability coverage and property damage liability coverage. When they cause an accident, the other driver has the right to file a claim against their insurance policy. This may seem like a simple enough process, but dealing with insurance carriers is rarely easy or pleasant. Many people who must file auto insurance claims in California face challenges as they seek fair compensation for their damages.
Once you have identified the driver or drivers who caused your accident, your Los Angeles car accident attorney can assist you in filing your claim for insurance coverage. The insurance company has the right and the responsibility to investigate the claim, ensuring it falls within the scope of their policyholder's coverage. If you succeed with your insurance claim, you should not have to wait long to receive a settlement offer. Your legal team can verify that it is appropriate under the terms of the policy in question and the scope of damages you sustained.
In the event you encounter any issues with the insurance carrier, your attorney can help you resolve these problems and streamline your receipt of appropriate compensation. However, even a straightforward insurance claim process may not generate full compensation for the entire range of damages you suffered. If the at-fault driver does not have insurance, or if your damages exceed their coverage, you must proceed with a personal injury claim against them to recover your outstanding damages.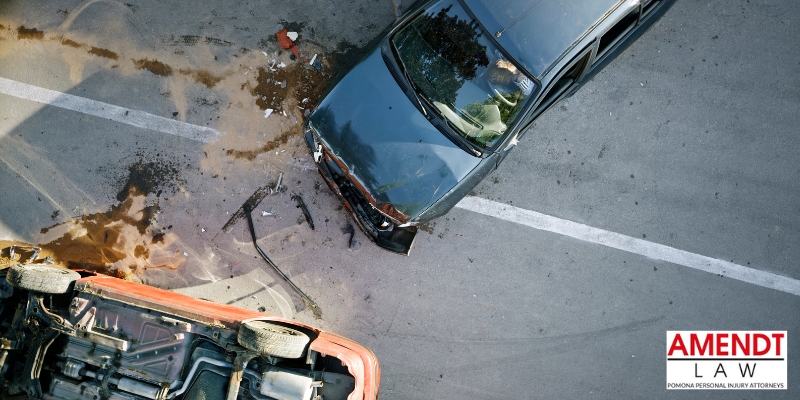 When to File a Personal Injury Case for a Car Accident
When another party is responsible for harming you, this is a "personal injury" and grounds for a civil claim for damages. You have the right to seek accountability for the full scope of the losses you incurred because of the defendant's actions. Whether your car accident occurred due to negligence or intentional misbehavior, your Los Angeles car accident attorney will be an invaluable asset as you navigate your recovery efforts. After exhausting all available insurance coverage, you will need to file a personal injury case against the driver who hit you.
The basic premise of most personal injury cases is negligence, meaning the at-fault party failed to exercise reasonable care and caution in each situation. For example, looking at a cell phone while driving is a violation of the driver's duty of care to drive attentively. Success in a personal injury case in California requires proving that actual harm occurred due to the defendant's negligence or misconduct. The plaintiff must present clear evidence that the defendant failed to use reasonable care in a manner that directly caused their damages.
Amendt Law has years of experience guiding clients through challenging personal injury claims. Our firm knows how to find the physical evidence and digital evidence you may need to firmly establish fault for your accident. This may include materials recovered from the scene of the crash, traffic camera footage, or cell phone records. If any witnesses saw the accident, your attorney will seek to secure their statements to support your claim. If liability is not clear, or if multiple parties all contributed to causing the accident, expert witness testimony could come into play. For example, your attorney may consult an accident reconstruction expert to prove the exact cause of your accident and firmly establish liability.
Damages Available in California Personal Injury Claims
After you and your legal team have proven fault for your personal injury in Los Angeles, the next step in your recovery is proving the full extent of the harm done by the defendant. You have the right to recover all the economic losses they caused, both immediate and future. State law also permits you to seek compensation for the pain and suffering you experienced from the incident, and there is no cap on the noneconomic damages claimable in a car accident case in California.
Most personal injury plaintiffs in Los Angeles will seek compensation for:
Any medical care they require to heal from their injuries. If you were injured by someone else, they are liable for your immediate healthcare expenses, such as hospital bills and ambulance fees. They are also liable for your future medical expenses if your injuries require ongoing treatment.
Lost income. Your car accident could have injured you severely enough that you are unable to return to work until you recover. In this situation, you have the right to seek full compensation for your lost wages. This includes the income you cannot earn while you recover as well as your lost future earning capacity. For example, if you develop a permanent disability that makes returning to work impossible, the defendant is liable for the future income you could have earned if they had not injured you.
Property losses. The defendant's auto insurance could cover some of your vehicle repair costs, but if it does not, you can recover the remainder through your personal injury case. You can also seek compensation for personal belongings lost in the accident.
Pain and suffering. California law allows personal injury plaintiffs to seek financial compensation for physical pain, psychological trauma, and emotional suffering experienced due to the actions of the defendants named in their cases. This can seem difficult to put into monetary terms, but the right attorney can provide helpful insights for determining suitable pain and suffering compensation in your case. If you suffered permanent harm of any kind, your pain and suffering compensation could form the largest portion of your total compensation.
Most people who experience car accidents in California can usually identify obvious damages, like their vehicle repair costs and hospital bills for treating their injuries. However, most will struggle when it comes to proving long-term damages or assessing a fair amount of pain and suffering compensation that would reasonably reflect their conditions. Whatever your case may entail, an experienced Los Angeles car accident attorney is the best asset to have if you want to maximize your final case award.
Comparative Fault in California Car Accident Cases
California is one of the few US states to uphold a pure comparative negligence statute. This means that a plaintiff may still recover compensation for their claimed damages even if they bear partial responsibility for causing those damages. There is no threshold of fault that bars plaintiff recovery, so it is theoretically possible for a plaintiff to be found 99% at fault, and they would still be able to secure 1% of their claimed damages from the defendant. However, the higher the plaintiff's percentage of fault, the more this impacts their final recovery and the more vulnerable they will be to a counterclaim from the defendant.
In the event you bear any level of comparative fault for causing your accident, you must consult an experienced Los Angeles car accident attorney as soon as possible to help you preserve your final case award as much as possible. The right attorney will be invaluable for helping you minimize any fault percentage assigned to you by the judge overseeing your case.
What to Expect From Your Los Angeles Car Accident Attorney
The right Los Angeles car accident attorney is invaluable when it comes to effectively addressing all the legal issues you are likely to face after a serious accident. While it is understandable to be concerned about the potential cost of hiring legal representation in this situation, you stand to lose much more than you would pay in legal expenses by trying to handle all your recovery efforts alone. Amendt Law can provide measured legal counsel and compassionate support through the challenges ahead of you. We are committed to providing client-focused legal counsel in every case our firm accepts.
A skilled legal team can streamline your preliminary recovery efforts significantly. When an insurance company sees that a claimant has legal representation, they are far less likely to attempt any bad faith tactics in handling the claim. Our firm has helped many past clients secure favorable settlements from the largest insurance carriers in California and can apply this experience to your case. When insurance alone cannot compensate your losses, or when an at-fault driver does not have insurance at all, you can rely on our firm to provide the personal injury representation you need to maximize the results of your civil claim for damages.
Amendt Law strives to help every client navigate their personal injury proceedings in the most efficient manner possible, identifying key evidence to help them establish liability for their damages beyond any doubt and ensuring appropriate accountability for the defendant who caused their injury. We also have the professional resources that a client may need to make the strongest possible case for compensation for long-term and permanent damages, including pain and suffering.
Any car accident has the potential to result in life-altering injuries such as spinal cord damage or a traumatic brain injury. Some victims are completely unable to work or live independently because of these incidents. Others are struck by hit-and-run drivers or drunk drivers, and the criminal charges filed against their defendants can influence their civil claims in various ways. Rest assured that our team can provide the comprehensive legal support you need to reach the best possible outcome for the recovery efforts you attempt after your Los Angeles car accident.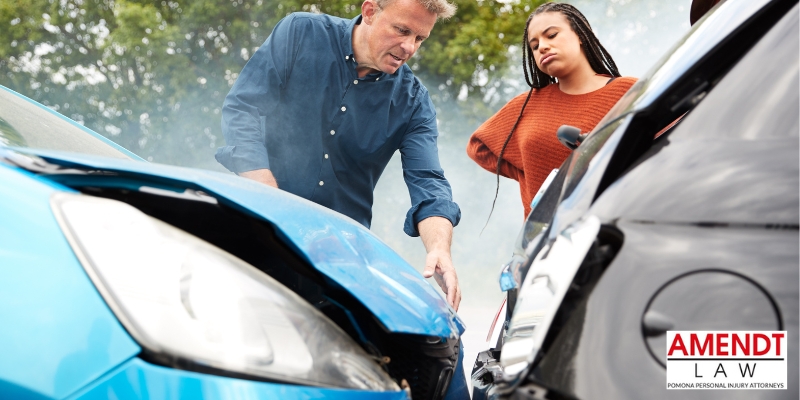 FAQs About Los Angels, CA Auto Accident Laws
Do I Need an Attorney After a Car Accident in Los Angeles, CA?
Technically, there is no strict requirement that you hire an attorney after experiencing a car accident in Los Angeles or anywhere else in California. However, the right attorney will make a tremendous positive difference in the outcome of the final recovery you reach. You have the right to hold the at-fault driver accountable for all damages they caused, and while some of these losses can be recovered through an auto insurance claim, an attorney's help with a personal injury claim may be required to ensure full repayment of your losses.
Do I Have to Call the Police After a Car Accident in California?
California state law requires drivers to call 911 to report any accidents resulting in substantial property damage, injury, or death. Failure to do so could potentially lead to criminal charges and complicate a victim's ability to recover their losses. If there is any doubt about whether you need to report a car accident in Los Angeles, it is always worth calling the police to report it. This will not only prevent you from facing legal penalties for failure to report, but it will also generate a formal police report of the incident, which you can refer to later in your recovery efforts.
How Soon Should I Speak With a Lawyer After a California Car Accident?
Your health and safety should be your primary concerns after a car accident, so you should seek medical treatment immediately, even if it seems like your injuries are minor. Once you address the immediate aftermath of the accident, the next thing you should do is contact an experienced attorney as soon as possible so they can assist you with recovering compensation for the accident.
How Much Compensation Can I Receive for a Car Accident?
A car accident can potentially be a life-changing experience, resulting in tremendous damages that are initially very difficult to accurately calculate. You may be legally entitled to claim far more compensation than you initially expect. Working with an experienced Los Angeles car accident attorney is the best way to secure maximum compensation for your losses, even after you account for the cost of hiring legal counsel. Amendt Law strives to enhance every client's case award as much as state law allows.
How Long Does It Take to Settle a Personal Injury Claim in California?
In the event you must pursue a personal injury claim against the driver who caused your recent car accident in Los Angeles, the time required to settle the case depends largely on the defendant's willingness to accept liability and agree to a settlement. Most civil claims filed in Los Angeles end with settlement negotiations, but there is always a chance that a case could proceed to litigation and take much longer to resolve. Your Los Angeles car accident attorney can provide an estimate of how long it will take you to finalize your personal injury claim if insurance alone is not enough to fully compensate your losses.
Contact Experienced Los Angeles Car Accident Attorneys Today
Amendt Law is a team of experienced Los Angeles car accident attorneys ready to provide the responsive and compassionate counsel you need to approach your recovery efforts with confidence. We have helped many past clients maximize the settlements they received from auto insurance carriers, resolving the disputes that often arise between claimants and insurance companies.
Our firm also has the professional resources and skills required to guide clients through complex civil claims. Regardless of what you anticipate facing in your recovery efforts after a car accident, we can provide reassurance and support during this difficult time. Contact us today and schedule a consultation with our team to learn more about the legal services we offer.