Rancho Cucamonga Car Accident Attorney
Being involved in car accidents can be terrifying, and injuries can affect you for the rest of your life. Car accidents are unfortunately common in California. The state is one of the more dangerous states to drive in, with busy roads and more uninsured drivers.
If another driver was at fault for your vehicle accident, you could hold them liable for damages. If the driver's insurance doesn't cover the extent of your lost income or medical bills, a personal injury claim may cover the remaining compensation you need. When you work with a Rancho Cucamonga car accident lawyer, your claim is more likely to succeed and reach the most compensation possible.
Receiving Qualified Legal Representation
Filing a claim is a complex process, and it can be made more frustrating when you're suffering pain and injuries and dealing with recovery. Amendt Law can help you file your claim and meet the necessary legal deadlines. Our experienced attorneys have served the Southern California area for more than 24 years. We represent those injured in auto accidents, fighting in negotiations and litigation for the compensation you need. We provide you with compassionate advice using our knowledge of many car accident claims.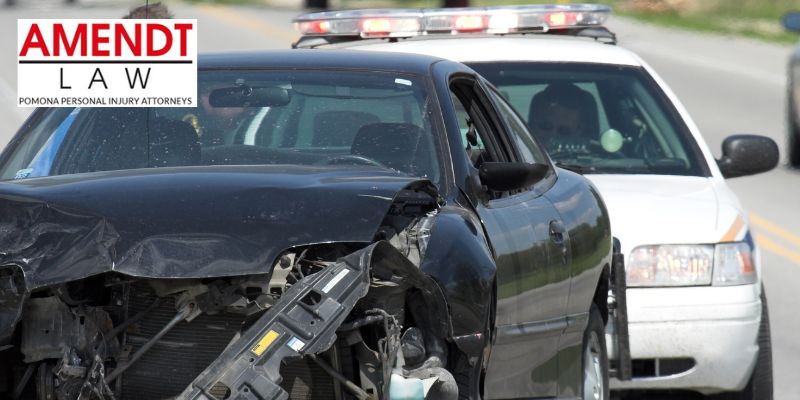 Common Causes of Auto Accidents
Liability in Rancho Cucamonga, California works on a fault-based system. When drivers are involved in an accident, the person who was not at fault must file a claim with the other driver's insurance provider. When they don't have insurance or do not have enough insurance coverage, it may be necessary to file a personal injury claim. Then, it's essential to determine liability, which is determined if either driver was behaving negligently. Car accidents are often caused by the following:
Distracted Driving – This may be caused by texting, messing with things elsewhere in the car, talking with passengers, or eating while driving. It may also simply be caused by inattention to the road. Though distracted driving is common, it can be hard to prove, especially if the at-fault driver was only distracted for a few seconds when the accident was caused.
Driving Under the Influence – It is illegal to operate a car with a blood alcohol level of 0.08% or higher or while under the influence of other drugs. Drivers found with a DUI will face criminal charges in addition to personal injury claims.
Excessive Speeding – Drivers who exceed the speed limit increase the chance of a car accident occurring because they have less time to react to condition changes on the road. If a car accident occurs, a speeding driver will likely be considered at fault.
Poor Visibility – Driving conditions can make being on the road more unsafe. Driving at night, through a storm, in a flood, in extreme traffic, or in foggy conditions can make accidents more likely. This doesn't always point to fault; however, drivers can fail to take measures like reducing speed to remain careful in these conditions.
Moving Violations – This often takes the form of traffic infractions, which disrupt traffic and can sometimes create accidents. This may include failure to yield, failure to stop at a stop sign or red light, or illegal turns.
Though many of these causes can be hard to prove, they are much easier with the resources of a car accident attorney. If you think you have a legal claim, you can talk with an attorney to determine liability.
Why Do I Need a Car Accident Lawyer?
Working with a Rancho Cucamonga car accident lawyer increases your chances of succeeding with a personal injury car accident claim. Though you are able to file a civil claim yourself, an attorney can counsel your decisions, make sure your claim has the correct information, and do the work of gathering evidence and testimony. If you suffered injuries in your accident, this allows you to recover rather than stress about legal work and deadlines. Your attorney can also negotiate on your behalf with the insurance provider, saving you a headache.
Many people who file for a personal injury claim don't realize just how many damages they qualify for. This means you may accept a settlement that fails to cover your future medical bills or lost earning potential in some circumstances. Car accident attorneys have experience with cases like yours and know what damages you should calculate for. This can maximize your settlement for the claim.
Damages You Could Qualify for in a Personal Injury Claim
Your attorney can determine what losses you suffered and what losses may need to be covered in the future. You could receive compensation for economic losses and even losses like pain and suffering in some situations. The damages you qualify for may be:
Lost Income – If you were injured in the car accident and were unable to work while you recovered, damages could include full compensation for the wages you would have earned at that time. If your injury limits your ability to return to work or return to the same work, you may also qualify for damages of lost earning capacity.
Medical Bills – Any hospital bills or medical costs from injuries sustained in the accident are damages you can receive compensation for. This also covers related surgeries, hospital transportation, hospital stays, and future medical complications the injury may have.
Property Damage – In most cases, even minimal driver's insurance will cover damages to your car. However, a personal injury claim can cover other property damage, lost property, and additional car damage.
Pain and Suffering – In some situations, you can receive monetary compensation for emotional, physical, and psychological pain and suffering. An attorney can walk you through determining a value for this damage.
When you work with an attorney, they can ensure all your current and future damages are covered with a compensation amount. Insurance companies are likely to lowball the compensation you deserve, hoping that you'll accept it to cover current medical costs, so they don't have to spend to cover future complications. An attorney will help you reach a fair settlement for the damages you suffered.
Common Auto Accident Personal Injuries
Many car accidents can lead to serious injuries that can have lasting medical complications. Common injuries that result from car accidents include:
Spinal cord and spine disc injuries
Traumatic brain injuries
Neck injuries, including whiplash
Fractures and broken bones
Lacerations
Burns
Wrongful death
The attorneys at Amendt Law want to pursue fair compensation to cover these injuries and how they impact your entire life. Some injuries, like traumatic brain injuries, may not be apparent immediately following a crash. It's important to keep an eye out for developing conditions and signs of brain injuries after car accidents.
FAQs About Rancho Cucamonga, CA Car Accident Laws
How Much Do Car Accident Lawyers Charge?
Car accident attorneys in California may charge on an hourly basis or by contingency fee. An hourly fee will depend on the attorney's experience and the specifics of your claim. A contingency fee means you won't pay out-of-pocket costs and only owe your attorney a percentage of your settlement. This percentage is generally 30 to 40%. It's important that you talk with an attorney about how they charge for a car accident claim. You want to be sure you can afford to pay your attorney for the entire claims and negotiation process and the potential for litigation.
Should I Hire a Lawyer After a Car Accident?
It's beneficial to work with a car accident attorney. Though not required when filing a personal injury claim, it's very helpful. Not only will your attorney gather evidence to back up your claim, but they can work with an insurance company for you. If you are dealing with pain and suffering from an accident, the last thing you want to do is struggle with insurance providers and complex legal forms.
What if I Can't Afford a Lawyer for My Car Accident Case?
Many car accident attorneys in California can work your claim on a contingency fee basis. This means rather than pay an hourly rate or out-of-pocket costs; you pay them a percentage of the settlement you receive. If you don't win a settlement from the claim, you don't owe the attorney anything. The percentage of your settlement that you owe is assigned by a judge based on the complexity of the case and averages around 33%.
What Are Some Tips for Hiring a Lawyer After a Car Accident?
You want to hire an auto accident attorney who has worked on cases like yours and achieved successful results. Look into an attorney's past cases, and read reviews from clients. It can also be useful to call and talk through your case with potential attorneys to see if they are someone who seems to listen to you and is compassionate about the situation you're in. Ask them how regularly they communicate with their clients regarding changes in a claim.
Amendt Law: Your Rancho Cucamonga Car Accident Lawyers
When you need compassionate legal counsel after a severe accident and injury, Amendt Law can represent you. Being involved in a car accident is stressful, and you need to heal and feel confident that you can gain compensation and monetary stability. Our professionals have negotiated settlements in many car accidents claims, and we want to provide individualized counsel. Contact our team today to see how we can maximize the settlement of your claim.